Updated on 14/04/22 by Jess_OVO
Got a smart meter installed but noticed we've estimated your usage on your latest monthly summary? There's a chance we could be experiencing communication issues with your meters.
The first place to check what's going on with those smart meters is your online account or OVO app (download for Android or iOS). You'll know something's up if you see this message on the Homepage.
This message will appear if we haven't received a reading from your meter as expected for at least 5 days. Hopefully this is just an intermittent issue and the meters will get back in touch with us soon. In the meantime it's worth submitting a meter reading a few days before your next monthly summary is due. 
To take a reading you'll need to go to the meters themselves (this won't be viewable on the In Home Display unfortunately).
There's a slight difference between the the S1 meters we installed. To take a dual (day/night) reading for Secure Liberty 110 S1 smart meters (which are designed to work best with storage heaters), press 9 on the meter's keypad. If you've got a Secure Liberty 100 S1 smart meter, press 6 to confirm the Day and Night meter readings (pressing 9 will show the reading if you're a single rate member with this meter).
 
 
Aclara (Elec) / Flonidan (Gas)
Elster (Elec) / Honeywell (Gas)
Reading the meter

Elec: Press A three times until TOU Rate 1 appears.
Gas: Press C to wake up, then C to access the menu. Use B to scroll and C to select the reading option.

Elec: Press the top button once or twice
Gas: Press the circle button once or twice
You can then enter this reading by clicking 'Send a meter reading' on the Homepage message or by clicking on the 'Meter Readings' menu option.
Here you'll be able to see the last reading we received and the date this was sent to us. Unless you've sent a manually reading already, this will be a good indication of when your smart meter lost communication with us. Click 'Send electricity reading' and you'll be taken here.
It's worth checking the reading you've taken against the last reading (it shouldn't be a lower number, unless your meter's faulty!) You can then type today's reading into the box or boxes (for an Economy 7 meter) provided.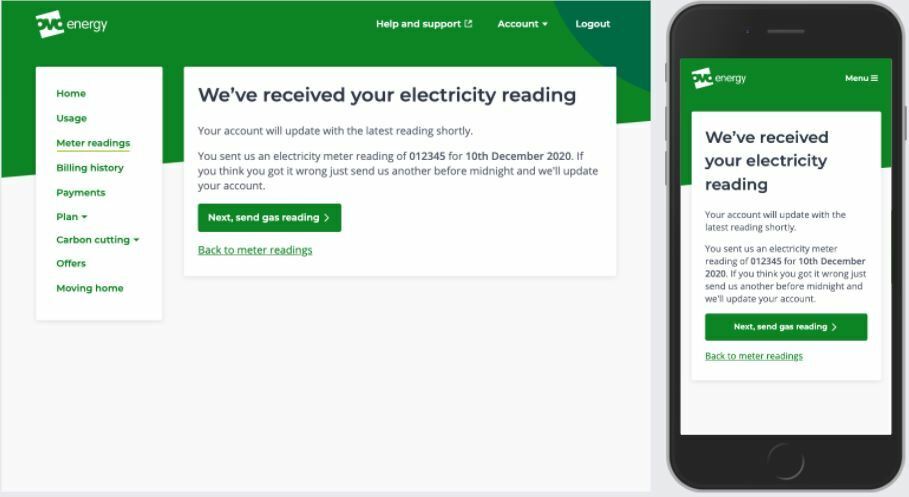 Click 'Next, send a gas reading' to send the reading from your other meter (if this applies to you). If you refresh your Homepage you'll notice your balance will update to include the up-to-date usage costs. 
Hopefully this will be a temporary communication blip and we'll be able to recover the communication without any further action. If it's been a few weeks and you're still noticing the smart meter message on your Homepage it's worth carrying out a smart meter health check for your meter type below and forwarding the results on to our Support Team for further investigation.
SMETS1 Secure Smart Meter Health Check
SMETS2 Smart Meter Health Check
Fingers crossed those smart meters will be back in touch soon and you can continue enjoying all the great benefits of going smart!