Updated on 29/04/21 by Jess_OVO
Smart Metering Equipment Technical Specification (SMETS) 2 - your guide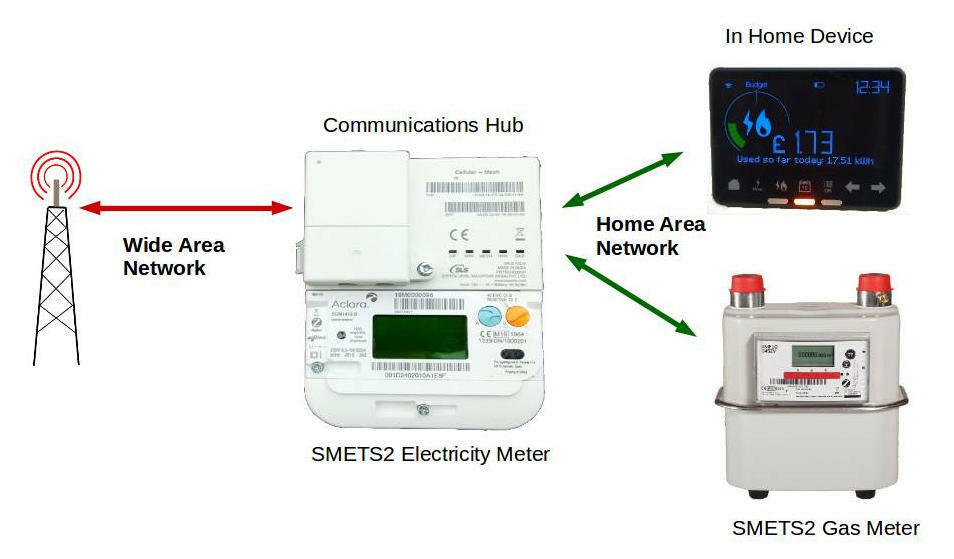 What's good about SMETS2 meters (why should you get one)? 
This new technology is supported by all S2-ready suppliers and will allow you to switch without losing any services or requiring any equipment changes.

These new meters have highest standard of security for householder data, even better than S1 meters - (Encrypted data that can only be read by the receiving supplier developed by GCHQ). Strict new regulations and codes of practice, regulated by Ofgem, keep smart meter data private – and all your personal data is safeguarded by the Data Protection Act.

The meter will automatically submit your meter readings to us - this means bills will be accurate, rather than estimated

You'll be able to see how much energy different appliances use, which could help you to cut down what you're spending

Efficiency is the main reason why it is a government initiative to install them - their aim is that all UK households are offered a Smart meter by June 2021.

Installation is free.
SMETS 2 meter types offered by OVO
(Please note that other suppliers may install other types of SMETS 2 meters.)
 
Aclara (Elec) & Flonidan (Gas)
Elster / Honeywell (Elec & Gas)
Installs
Installed on all jobs
Not currently installed. Installed on some jobs in 2019.
How to identify
MSN begins:

Elec: 18M/19M/20M
Gas: G4F

MSN begins:

Elec: 188K/19K
Gas: G4K

Appearance

Elec has blue A button & orange B button
Gas has 3 red buttons (A, B & C)

Elec has 2 vertical grey buttons (buttons are not labelled)
Gas has 3 round buttons: left arrow, circle and right arrow

Dimensions

Elec: 160mm H x 127 mm W x 65 mm D
Gas: 262mm H x 235mm W x 167mm D

Nearly identical size as Aclara & Flonidan.
 
Reading the meter

Elec: Press A three times until TOU Rate 1 appears.
Gas: Press C to wake up, then C to access the menu. Use B to scroll and C to select the reading option.

Elec: Press the top button once or twice
Gas: Press the circle button once or twice
 Dimensions of our SMETS2 meters: 
Aclara V2.5 Electricity Meter: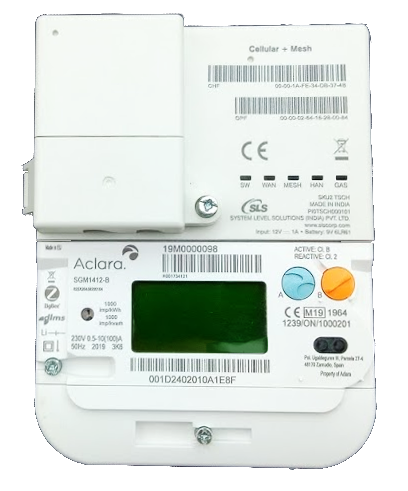 160mm H x 127 mm W x 65 mm D
 
Flonidan Gas Meter: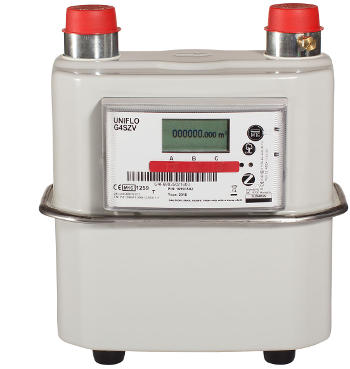 Elster Honeywell Electricity meters are nearly identical size as Aclara.
What do the buttons do / what actions can you do? 
Honeywell meters (Elec MSN has a 'K')

Electricity - Press the top button once or twice to access the reading

Gas - Press the middle button once or twice to access the reading. 

Aclara meters (Elec MSN has an 'M')

Electricity - There's 2 buttons on an electricity meter. Pressing B will cycle through all the menus on the meter screen and pressing A will cycle through all the sub menus. To take an electricity reading, the customer will need to press A three times - TOU rate 1 will be the electricity reading. For economy 7 customers, TOU rate 2 will show the rate 2 reading.

Gas - Gas meters have A, B and C. Pressing C will give you the menu and A & B will allow you to scroll through the options. Balance is to check reading (when you wake up the meter is should automatically default to the reading screen).
Screen 1 - readings, active tariff price, standing charge, export reads, meter mode
Screen 2 - date, time, MPAN, 
Screen 6 - Meter Signal strength 
(The rest aren't very customer friendly, just being honest!)
 
If the meter is connected to the comms hub, it will have the word 'HAN' on it and signal bar to show what the HAN signal strength is.
If there's WAN and HAN coverage the WAN & HAN lights on top will flash every 5 seconds. If they are searching for signal then they will flash every 3 seconds and if there is a connectivity issue then they will flash every 1 second or not flash at all.
How does a S2 meter communicate? 
Unlike S1, S2 electricity meters have a communications (comms) hub attached to them. The electricity meter, gas meter and IHD all communicate with the comms hub via HAN. Only the comms hub uses WAN and it communicates with the DCC (Data Communications Company).  The DCC then communicates with our billing platform.
 

North/South differences
 

North

(MPANs 15, 16, 17, 18, 23)

South
(MPANs 10, 11, 12, 13, 14, 19, 20, 21, 22)

Comms hub appearance

Two lights (WAN and HAN)

Five lights (2nd is WAN and 4th is HAN)

Signal

Uses radio signal - does not depend on mobile signal strength

Uses mobile signal

Aerials

Aerials cannot be installed on North comms hubs which are neither SKU1 or SKU2

SKU1 hubs are fitted if an engineer thinks an aerial is not required
T1 and T2 aerials can be fitted onto SKU2 hubs. Members will see "SKU2 Cellular + Mesh" on the top-right of SKU2 hubs
FAQS
Will SMETS2 meters work with solar panels? 

OVO S2 meters are compatible with solar panels. S2 meters offered by other suppliers should all eventually work with solar panels but it completely depends on where they are in their manufacturing journey as to when this will be.

Are S2 meters compatible with storage heaters?

Yes - 5 port/terminal SMETS2 meters are now available when booking online.

Is there going to be an S3 meter? 

Not that we are aware of. Any upgrades are being done on S2 as you can upgrade all the firmware over the air.

Can S2 handle 3 phase?

Not yet (as of April 2021) - but they will be able to in future (exact date tbc)

Will S1 communicate with S2 gas and vice versa or do both need to be the same? For example, if a meter exchange has to happen.
​​​​
As it stands they both need to be the same.

Do we offer ECO10 for S2? 

Not currently (as of April 2021) but this will be possible in future (exact date tbc)

Are we fitting semi-concealed SMETS2 gas meters? 

Yes, the meters are the same but the engineer needs a semi-concealed kit with them to complete the installation, so this needs to be flagged during the booking.
Hope you've found this S2 DIY tutorial series guide helpful - if we've missed anything off, let us know via a comment! 
If you have an S1 Secure smart meter, see this guide. If your S2 smart meter has an issue, diagnose it here. If your S2 IHD has an issue, diagnose it here


Want to get the most out of your S2 meter? Download the OVO app for Android or iOS.