Updated on 01/09/23 by Abby_OVO
Here at OVO, we're always on the lookout for ways to make managing your energy account easier. This is why we developed a new billing system in-house and have now moved the vast majority of OVO member accounts over to this new platform. As part of this we're changing the way that we calculate your energy costs and the frequency this is displayed on your online account or OVO app (download for Android or iOS). This means that when you login, you can now see your account balance update daily, based on the most recent reading you've submitted manually or we've received automatically from your smart meter.
 
Traditional Energy billing model

Traditionally energy companies would receive meter reads either
From customers reading their own meters and submitting a read.
From smart meters directly.
On a specific date each month or each quarter, they'd look at the latest meter read they had received to bill you and generate a statement. This might have been based on the latest smart meter read, it might have been based on the last read you submitted manually or it might be based on an estimated meter reading if there was no meter reading received for that day.
This model makes anticipating and budgeting your energy costs harder as you're only able to see how much your usage is costing at certain intervals throughout the year.
 
So how does live-billing help?

We started developing this up-to-date billing solution as OVO members told us that the traditional model of issuing a monthly or quarterly statement can make it difficult for them to feel in control of their energy costs. Particularly at times of increased usage, having to wait until the next statement was issued can cause increased anxiety and may result in members restricting energy usage or worrying about the next payment due. With up-to-date billing you now get a clearer idea of how much your energy use has cost every day and keep track of your balance throughout the month.
This means that the balance shown on your online account is always an accurate reflection taking into account
The cost of your energy usage, as calculated and billed with each time your smart meter sends us a reading or you submit a reading manually.
Daily standing charges.
Payments and refunds.
Monthly Summaries
Along with the way your charges are shown on your online account, you'll also notice a difference to the statement that's emailed or sent to you each month. We've streamlined the information we give you into a monthly summary. This will be emailed or posted depending on your communication preferences. All previous monthly summaries can also be downloaded on the ''Billing History' page of your online account: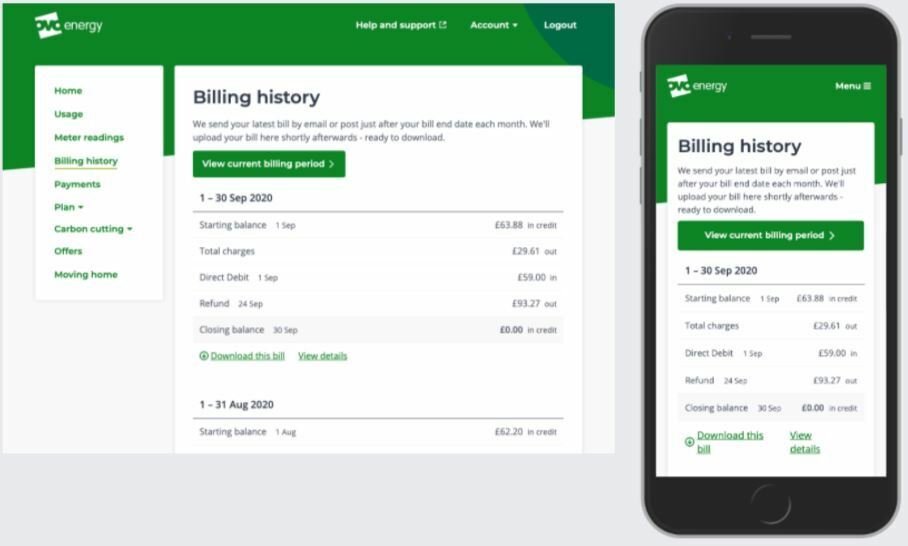 How to get the best out of the new online account
As we're able to calculate your charges whenever we receive a reading, the live-billing platform is ideal if you've got a smart meter set to send us readings either daily or half-hourly. We'll then adjust your balance based on actual usage figures each day at midnight. If you've not yet got a smart meter installed this might be the perfect time to take the leap.
If you've already got one installed but it's currently sending us monthly readings, we'd recommend contacting our Support Team to request an update to your smart meter reading schedule.
Got any more question about how your account billing works? Comment below, we're happy to help.