Updated on 09/05/23 by Blastoise186
Landis+Gyr E470 smart meters - Your unofficial guide
One of the great things with smart meters, is that there's quite a good range of options out there for suppliers to pick from. I'm quite a fan of the Aclara SGM1300 and SGM1400 Series myself, as I think they're really nice and easy to live with. But there's a bunch of others too…
One of the most common meter brands used in the UK, is Landis+Gyr (L+G). They've also been a very common brand in the UK for many years, and it used to be highly likely that at least one electric and/or gas meter in every street was an L+G model, and this continues with smart meters. But there is also a bit of an unfortunate - and somewhat unlucky - snag here. How does one tell a SMETS1 Landis+Gyr smart meter apart from a SMETS2 Landis+Gyr smart meter, when they apparently all just so happen to be the Landis+Gyr E470 and G370?
On top of that… Can you even switch supplier and if so, would you even know if your smart meters would suddenly drop off the grid and lose their smart functions'? 
Don't worry, your resident Master Blaster has some tips and advice. 
What does a SMETS1 Landis+Gyr E470 look like?
Here's an example of one installed by British Gas/Centrica:
As an alternative angle, this is another image from the same thread:
The images above were originally posted in the thread below, which has some useful discussions:
There's also another type of SMETS1 Landis+Gyr E470 smart meter, that looks like this, which we'll get to further down: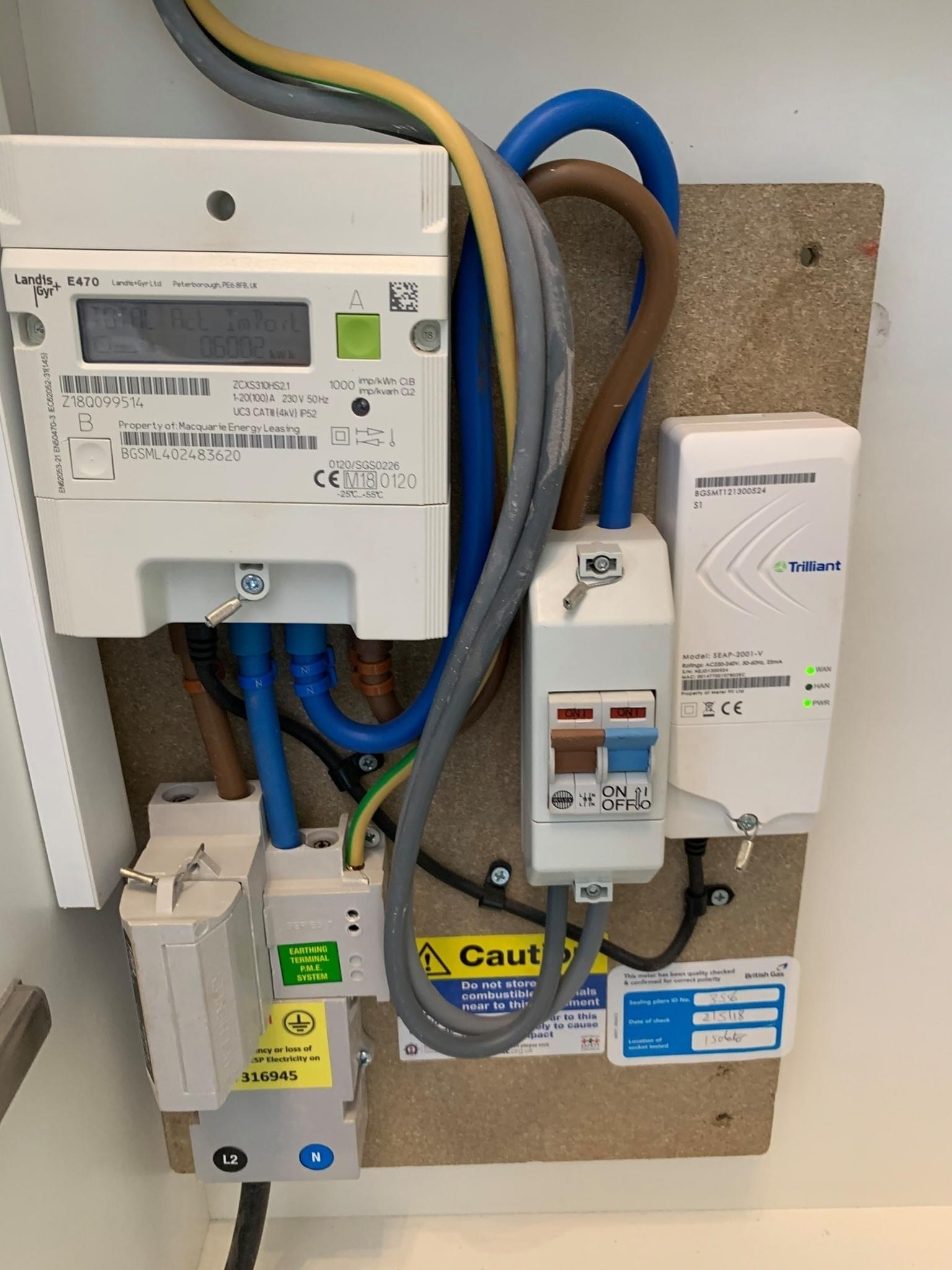 The common characteristic of the SMETS1 versions is that they have a separate Comms Hub next to the meter, such as the Trilliant SEAP-2001-V. If you have one of these, your gas meter will also be SMETS1 and is probably a Landis+Gyr G370.
If I've got one of these, can I switch supplier without losing smart functionality?
Unfortunately, I've got a bit of bad news there. To get the best info, I need to call in help from SmartMe, one of the resources we use here a lot.
While the plan is to upgrade as many SMETS1 smart meters as possible to SMETS2 firmware and migrate them to the National Smart Meter Network via the Data Communications Company (DCC), it's running a bit behind schedule at the time of writing.
The latest details we have are that S1 L+G meters are planned to be migrated by September 2022, but this may still change. If you've change supplier in the meantime and your meter lost its Smart function, it should recover after this process completes.
I'm with British Gas right now and they installed the meter, is that a problem?
I'm really sorry to say that due to the fact British Gas/Centrica are using their own proprietary WAN that no other supplier can access, if you switch away from them now, your smart meter will almost certainly lose Smart functionality temporarily. Don't let this put you off though! It simply means you'll just have to put manual readings in for a bit.
If the meters were installed by another supplier and are still SMETS1, they might still work fine with a few suppliers. Please check first!
All of these meters are being included in the migration. Once DCC takes over control, British Gas won't be involved anymore and your meters will work fine everywhere.
Will these meters work with OVO?
Not yet, but they will soon! OVO chose to go with Secure branded meters rather than L+G back in the SMETS1 days, so the only SMETS1 meters OVO can support are those from Secure. However, OVO has got full support for all SMETS2 meters and SMETS1 meters from any brand that have been upgraded to SMETS2 and migrated to DCC. My own Aclara SGM1311 (guide here) that I like to call Raichu is one such meter.
Feel free to switch to OVO anyway if you wish. Once the meter starts working, you'll be notified.
What does a SMETS2 Landis+Gyr E470 look like?
Good question! Here's an example of one that was originally installed by EDF:
And here's another one that looks slightly different.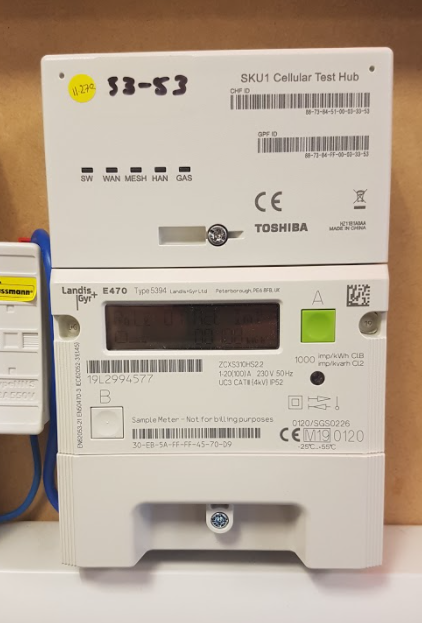 This particular one is actually a testing/demo unit that I think lives in one of OVO's offices! 
But if you ignore the test references, it's otherwise identical to the ones that are actually used. The only difference is that this exact one in the photo has a special Meter Serial Number which means it's not allowed to be put into service. 
Pretty much all SMETS2 L+G E470 meters look a bit like these two, but might not have the supplier stickers - and definitely won't have testing/demo references! They never have a black border around the display, and will always have one green and one grey button - but might not be in the same places. It's important to note that there must be a comms hub bolted to the top of the meter for it to actually be an S2 meter. If yours has a blanking plate on top instead, you probably don't have S2. Please see below for what that could mean.
If you have one of these meters, the exact gas meter you have may vary.
Will these meters work with any supplier?
Yup! As the SMETS2 variant, these ones work freely with any supplier, even if you're no longer with the one that installed the meters.
The super edge case! Pre-SMETS E470!
Do you have an E470 that looks a bit like this?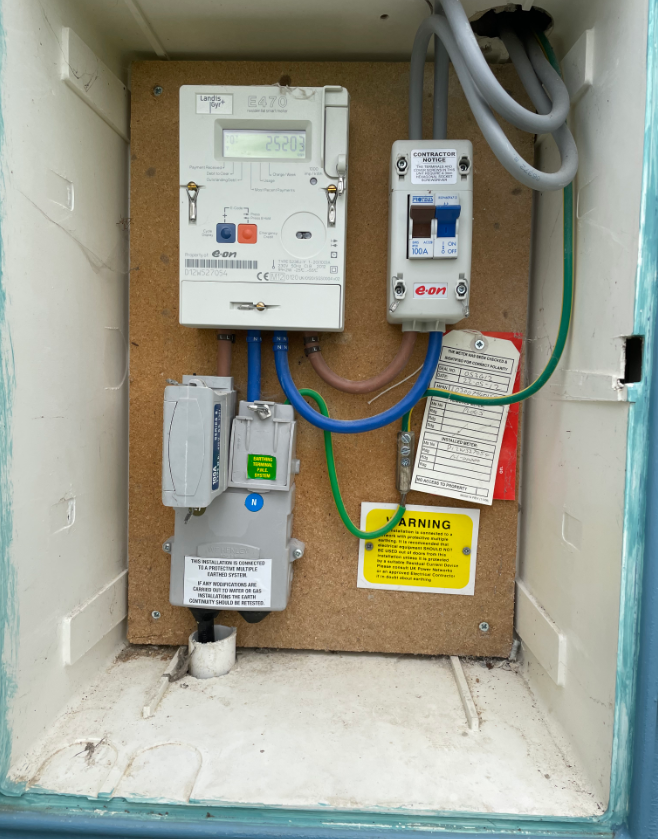 If so I'm afraid I've got some bad news. Unfortunately, this one is a Pre-SMETS variant of the L+G E470 that just makes things even more confusing. If you have this variant, I'm afraid it's neither SMETS1 nor SMETS2, sorry!
Will these meters work with any supplier?
Long story short version: Erm… Nope. It's impossible to connect them to DCC or any SMETS infrastructure, so unfortunately they're not actually proper Smart Meters per se. They don't have a Comms Hub and ran on legacy systems that basically no longer exist so the comms are dead.
If you have one of these, you're probably eligible for a free upgrade to SMETS2.
So why the same model number?
That is a mystery we've yet to solve. Sorry! Perhaps L+G might tell you a few clues though. 
My meter looks like the S2 variant, but it's got a Trilliant comms hub! What does that mean?
Is it something like this example by any chance?
If so then yeah... That might be a problem. It's quite possible that you've got an edge case with a bit of a Frankenstein here. We've seen one example of what looked like an S2 E470 that had an S1 Trilliant SEAP-2001-V comms hub on it, which really does give a whole new definition to "SMETS1+". It certainly gave me a bit of a shock when I found out about these edge cases! These are actually S1 I'm afraid. If there's no comms hub bolted to the top, it's not an S2. 


Given that S1 meters are no longer installed, there's probably only a handful of edge cases like this.

Unfortunately, if you've got an edge case like this, then I'm afraid all your meters and IHD will be running as if they were on a SMETS1 setup, even if the meters themselves may have looked like SMETS2 hardware. This means you cannot take advantage of all the benefits offered by having full S2 hardware and may struggle to keep things working if you switch supplier, but there is at least some good news.

Thanks to the national upgrades which are taking place, Frankenstein edge cases like this should be able to get upgraded to S2 firmware and then migrated to DCC by September 2022, just like all other S1 L+G meters. While you'd still have edge case hardware, you'll at least regain the ability to keep things working if you change supplier.
When is a Frankenstein Not a Frankenstein? When it really is an S2!
Here's another one to catch you out: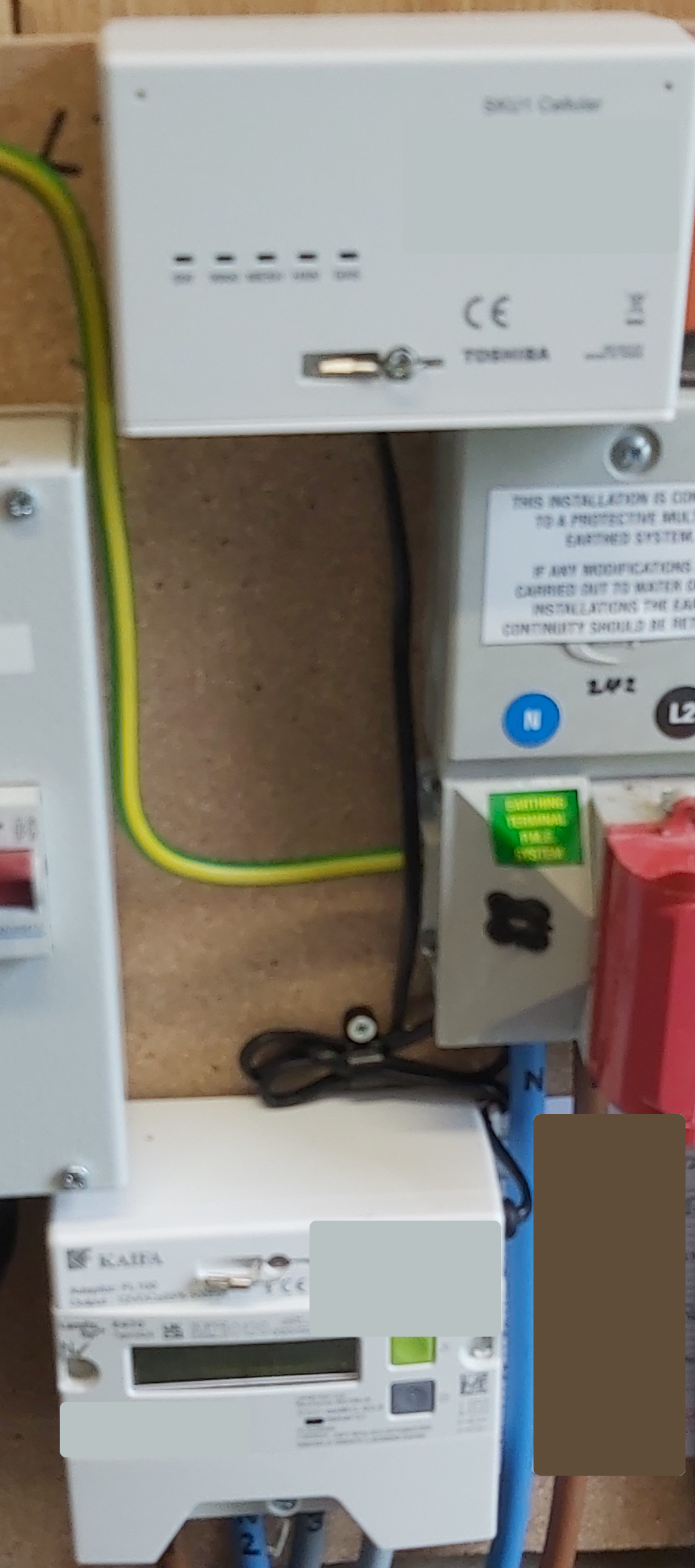 This one might look like a Frankenstein Meter, but it's actually an S2 Frankenstein that really is an S2 E470! The reason for this weird setup is because there wasn't enough space for the comms hub to fit without moving other equipment, so this particular L+G E470 has a weird flat Kaifa attachment bolted to the meter and a cable then goes to the S2 Toshiba SKU1 Cellular Comms Hub.
I've got this edge case! What does it mean for me?
Well, I at least don't have bad news. If you've got this exact edge case, you are still pure and proper S2 because the Comms Hub is ultimately still an S2 Comms Hub. This means you do benefit from all the perks of proper S2 hardware, albeit in a somewhat weird configuration.

If you're unsure whether you've got a weird edge case like this however, please do feel free to ask us for advice here. If you include some snaps of your meters and IHD as well, we can take a look. :)

And if you do happen to work for Landis+Gyr, we'd definitely be interested to know whether these weird Frankenstein meters can be converted to use S2 comms hubs! 🤣
I'm still confused about what I've got, can you help me figure this out?
Sure! Feel free to reply on this thread with some photos of your meters and IHD if possible. Even if you're not with OVO, we're always happy to puzzle solve for everyone. Not got a forum account yet? Click here to create one!