Updated on 15/12/22 by Emmanuelle_OVO
Aclara S1 smart meters - Your unofficial guide
Aclara is one of the most common smart meter brands in the UK and are used by several different suppliers. Since Aclara is also one of the manufacturers which has offered both SMETS1 and SMETS2 meters over the years, it can get a bit tricky to figure out which one you've got.
Perhaps the biggest clues that your smart meter is an Aclara model, are the giant easy-read display and the two buttons right next to each other. Here's some useful tips and advice for the SMETS1 Aclara meters.
Which one do I have?
Good question! It can sometimes be tricky to figure this out, but you don't need to be Sherlock Holmes. It's all elementary, my dear Wattson. I never guess, it's a shocking habit…
The SMETS1 Aclara SGM1300 Series meters will always have an Aclara branded Comms Hub, usually an Aclara SGC1300 Series comms hub. The A and B buttons are also always dark blue and are stacked one above the other.
Does your Aclara meter look a bit like this one? If it does, great! You're in the right place.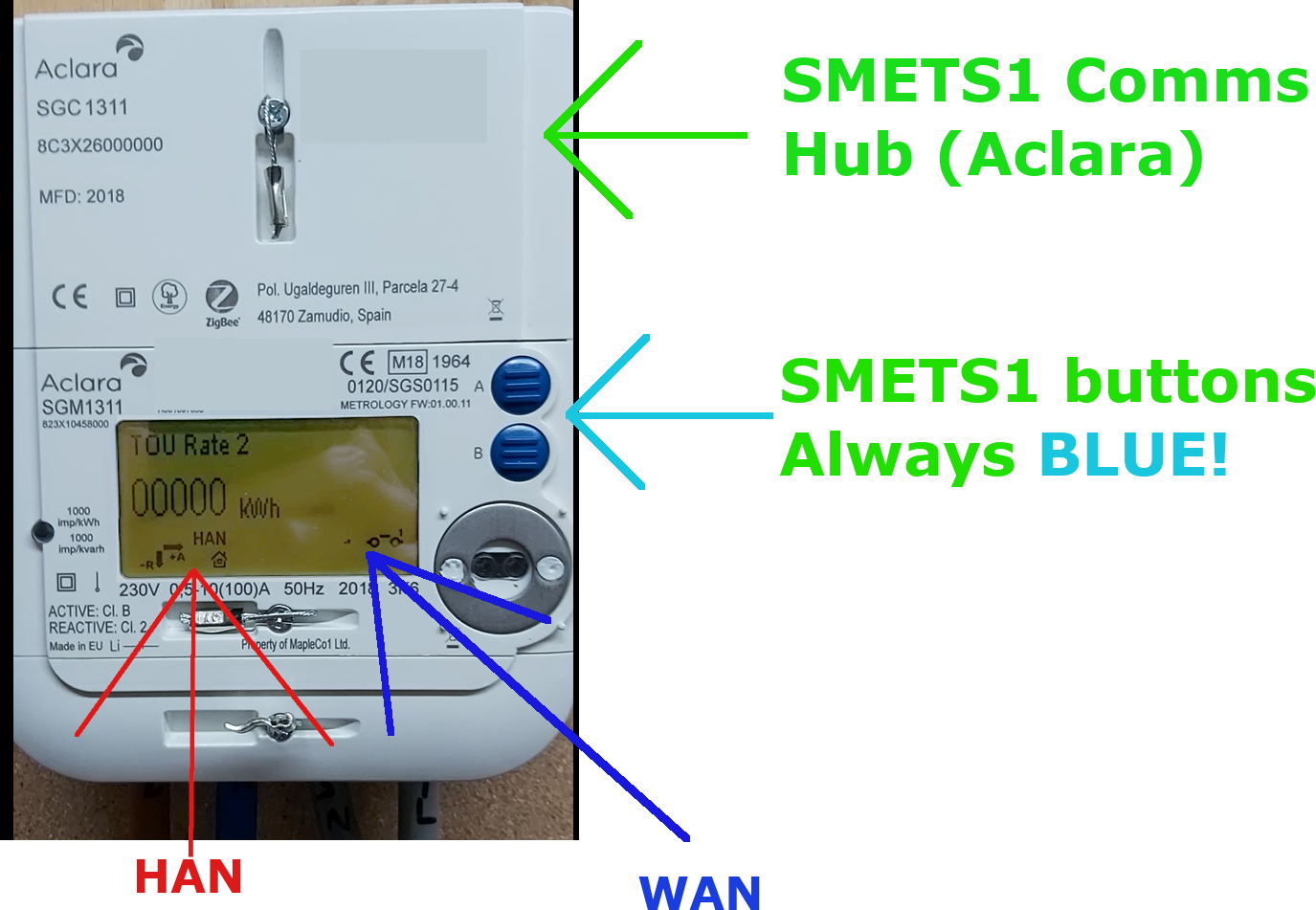 The SMETS2 Aclara SGM1400 Series meters will have a different Comms Hub, usually Toshiba/WNC branded and based on whether you're in the Northern or Southern Territory. The A and B buttons are usually different colours and are in a row. If you've got an Aclara meter that looks like the one below, you'll probably want to check out the other topic instead.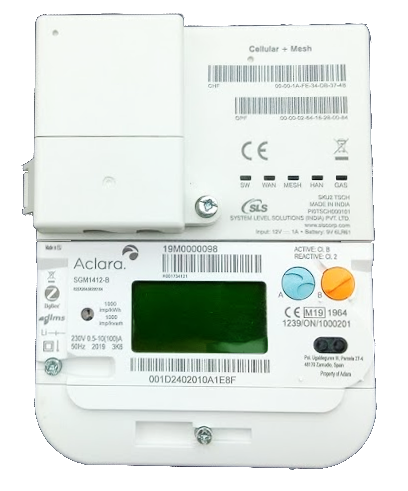 In both cases, there will be a red light to the left of the display and the display itself will be a large square shape with easy-read text and numbers.
What do the buttons do?
This guide is based on the meter running in Pay Monthly/Credit Mode with OVO. Your meter might have slightly a different map if you're with another supplier and/or have the meter running in the Pay-As-You-Go/Prepayment or Energy Limiting Modes. It may also change over time with future firmware upgrades.
Button-A is mainly used to scroll through the various meter readings:
Total Imports kWh
Total Exports kWh
TOU (Time of Use) Rate 1 kWh
TOU Rate 2 kWh
TOU Rate 3 kWh
TOU Rate 4 kWh
Meter Balance
When the meter is in sleep mode, it also scrolls through all of those screens automatically. You can press A to wake up the meter and scroll through them manually, which also turns on the backlight for easy reading. The meter will go back into sleep mode and turn off the backlight after 60 seconds of inactivity.
Don't struggle with trying to use a torch in darkness while using The Force! Simply light up the meter with the A Button and behold the power of the light mode.
Button-B is for engineering and diagnostics use. If you're reporting a possible fault, you might be asked to use it to display certain information. Otherwise, it's not required for normal operation of your Smart Meter. It's generally not recommended to press Button-B in most cases… Or you might be in for an alarming surprise when it sets off tamper alerts…
My comms hub doesn't have any lights, where should I look instead?
SMETS1 Aclara meters came with an Aclara branded comms hub that had no lights on it. However, all the details you're looking for will be on the meter display instead. While SMETS2 Aclara meters do have LEDs on the comms hub, you can also check the meter display, which may be more helpful than the LEDs.
Oh, and the red LED on the left of the display is not the one you're after! That caught me out a long time ago and I accidentally gave the wrong info to OVO's support team. The LEDs you're looking for are in another castle…
How can I check signal strengths?
SMETS1 Aclara SGM1300 Series smart meters show the signal strengths for both the Home Area Network (HAN) and Wide Area Network (WAN) on the main display, using a five bar scale for each one that's similar to a mobile phone. The indicator for the WAN signal is near the bottom right corner of the display, while the indicator for the HAN is near the bottom left next to a house icon.
Ideally, you also don't want your Smart Meters or your In-Home Display to be in a faraday cage. They're terrible for signal and are almost like putting a giant tin can over your TV aerial.
Anything I've missed? Leave a comment below to let me know! 
This guide is about Aclara S1 smart meters. If you have an S1 Secure Liberty 100/110 smart meter, check our guide below.