Updated on 14/04/22 by Jess_OVO
How to search this forum, raise a new topic or seek out account-specific help
Welcome to the OVO online community!

Looking for help from fellow community members? Check out the steps below which guide you through the best way to get valuable information from this forum. 

It's worth remembering that any issues requiring us to access your account are best raised directly to our Support Team.
Using the Search bar
The quickest way to get started on your path to an answer is to use our forum homepage search bar. Type in your query, making sure to include as many key words that relate to your question as possible, and press enter.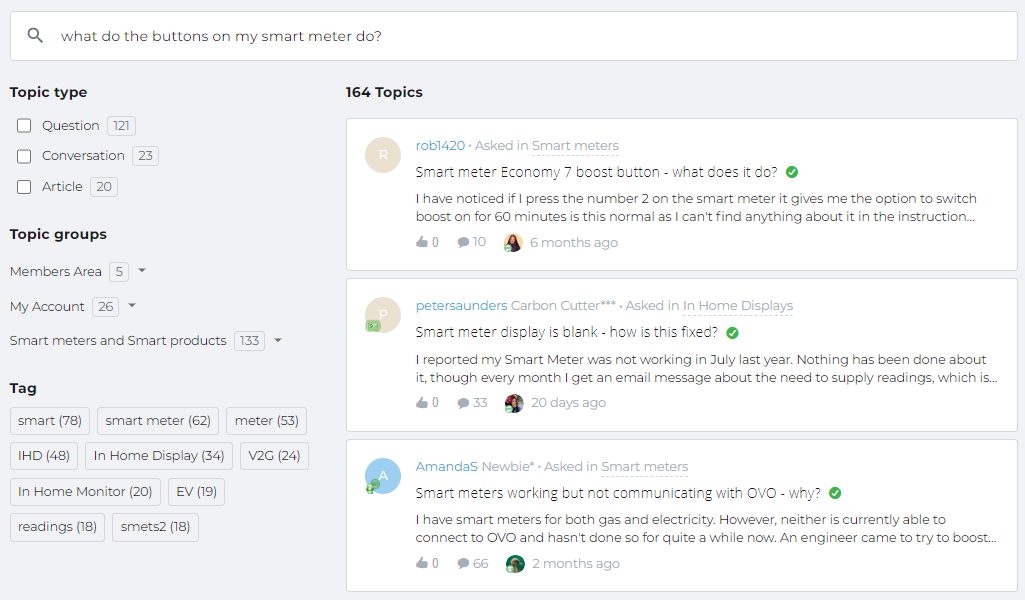 You can further drill down into the search results by selecting elements on the left, such as what topic type to look at (question, conversation, article), which topic group to search from, and which topics to show which include certain tags. 
Once you've made your selection, choose the topic that best fits your query based on the title, to see if it contains your answer!
Using topic groups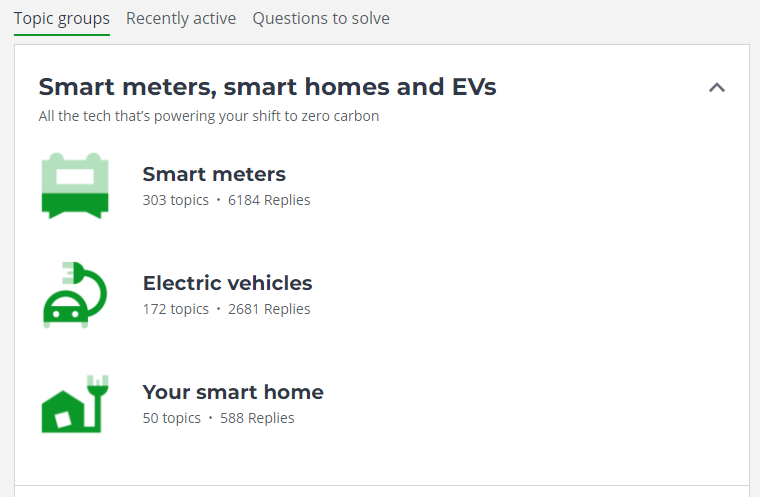 On the forum homepage, you'll see our topic groups (picture above). Select the general area (parent category) your query relates to, and then select which topic group (category) best fits your query. In the image above, I'm going for the 'Smart meters' category. You can also select which category you want using the header menu on the top right of your device's screen. 
You can browse topics in this category, to see if the question has already been asked, or use the search bar!
Using tags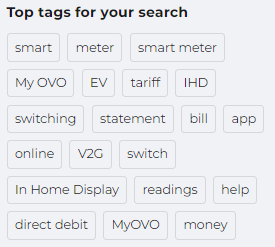 You can see this on the sidebar (if you're using a desktop device or tablet, or at the bottom if you're using a mobile) and select which tag best matches your query. 
This takes you to the search results, which only looks at topics which have been given this tag. Browser the results, or use the search bar to further narrow your search. 
Related topics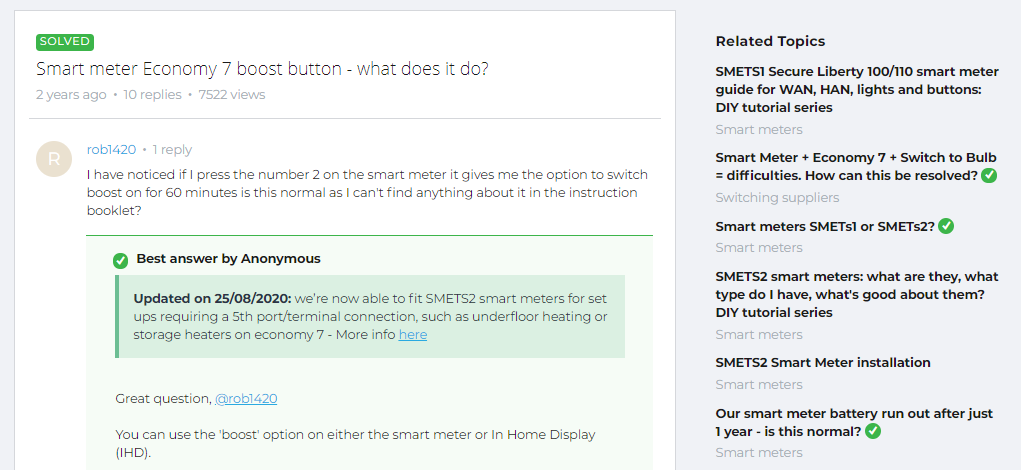 When you're viewing a topic, or its 'best answer' (if it's a question topic), make sure to consider the topics showing up in the 'Related topics' section. This is to the right if you're using a desktop or tablet, and below the topic if you're using a mobile. 
This feature uses an algorithm based on a combination of factors, to try and best match similar topics to the one you're viewing. The hope is if you didn't find the right topic the first time, this feature gives you another chance!
If you can't find your answer, create a new question topic!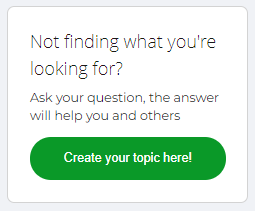 If you can't find the answer, it might not have been posted yet. Post your topic, get community based support and advice, and the answer will hopefully help you and others that follow in your footsteps!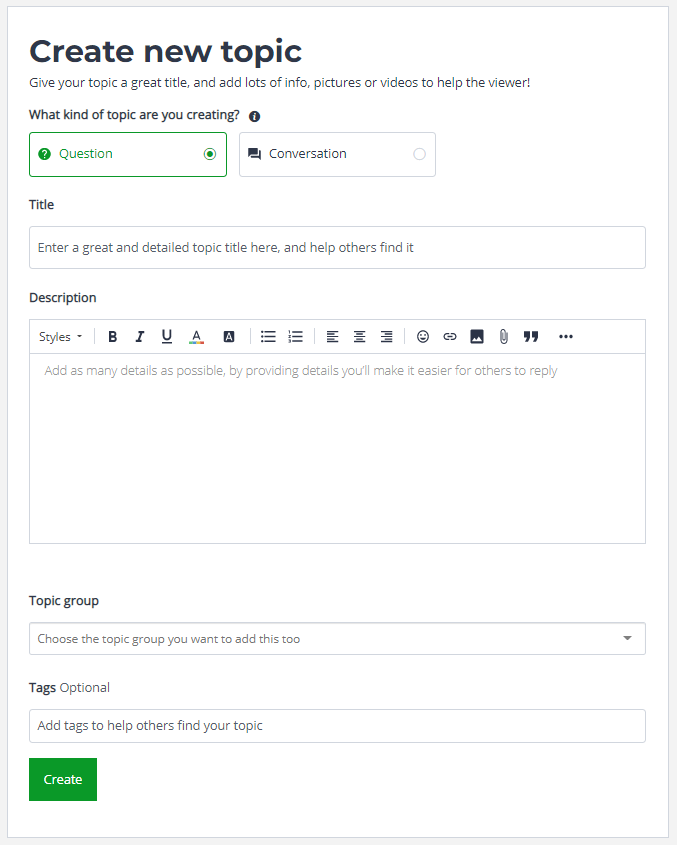 Make sure your topic:
Has a great title so we know what the question is about
Has lots of info in the description, anticipate what follow up questions may be asked and provide the answers in the original post. 
Is in the correct category
Has lots of relevant tags
Give our community members some time to get to your question and provide a reply. You'll automatically be subscribed to any topic you create, so you'll get an email notification when there's one or more unread replies to your topic.
Leave a comment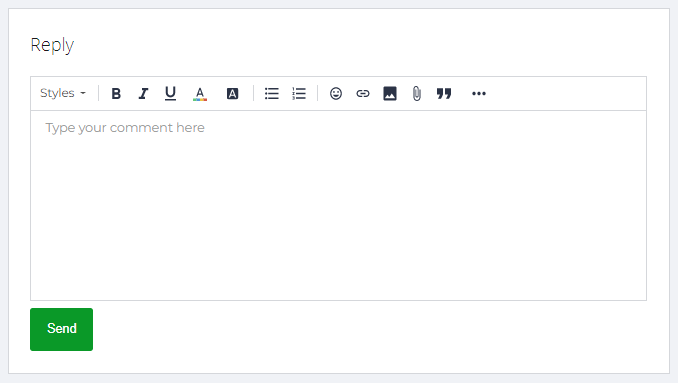 Use the comments section of a relevant topic to ask your question, if the info provided doesn't match your query exactly. Tag users who've replied earlier in the thread by adding their username after the '@' symbol.
As with a topic, include as much info as you can to help others when they reply. 
Community tour guide
What have we missed?
Why not try out the comment feature below and let us know how we can improve this guide!