Ask Me Anything
Tue, 3 Aug, 15:30 - 16:30
Our next online event: Ask Me Anything with Simon Maine
About this event
RSVP to our upcoming event
Heads up, we've got an upcoming event with guest speaker Simon Maine!
Agenda
We're hosting a live 'Ask me Anything' with OVO Energy's Director of Corporate Affairs, Simon Maine. Here's a little bit about Simon from the man himself: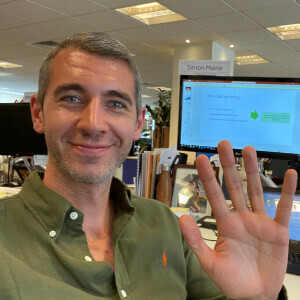 "Hi OVO Forum Members, 
I'm excited to meet you and hear your questions at the upcoming OVO Forum event in August. 
I've worked in low carbon energy for the whole of my career, first in politics, then in finance and latterly in communications. I'm currently Director of Corporate Affairs for OVO which encompasses responsibility for media relations, corporate social media, political engagement and sustainability.
We are the eyes and ears of the company for issues affecting the energy transition and the impact these might have for our members. I'm happy to talk about political milestones affecting the energy industry, technology trends and what you might expect to see in the future from OVO at a business level.
See you on August the 3rd,
Simon"
To get the ball rolling, we've set up an 'Ask Me Anything' topic thread for you to submit some questions to Simon ahead of the event:
Simon will also be happy to discuss with attendees any of the questions and answers in more detail on the day. So get there on time as we've got a lot to cram into the 60 minutes!
Platform:
We're using Google Meet again, which is free, cloud based (so no installs), admittance based and comes with some cool features!
Here's the URL which you can simply copy and paste into your browser when the time comes: https://meet.google.com/xqk-qurc-rzx?hs=122&authuser=0
It's recommended that you log out of your Google account, or go 'Incognito' in your browser before joining, to avoid your Google account name being shown. No personnel information such as email addresses is visible, and you're able to choose to have your video and microphone off/on before joining.
Guidelines
After we've all had a chance to say hello, we ask that everyone mutes their microphone, we'll introduce Simon, and dive into the pre-submitted questions

If you have a question or reaction for Simon, you're able to use the 'Chat to everyone' comments feature, or the 'Raise your hand' feature of Google Meet. We will have a dedicated note taker who will make sure any questions in the comments are put to Simon, and that anyone with their hand raised gets a chance to ask Simon directly. 

We'll do our best to answer all questions, including those pre-submitted, and asked on the day. However we might not have time to get to all of them. 

Please respect everyone's right to be heard, to remain private (please use chosen names or forum user names), and to be free from abuse.
AOB
Please RSVP to this event so we can get an idea of numbers. We understand that things can come up and you might not be able to make it in the end, and that's OK! 
We appreciate the time of any attendees, and we'd like to thank Simon for agreeing to speak to you and hear your questions. We're really looking forward to this one and we hope you are too.
See you on the 3rd!
Event details
Date and time
Tue, 3 Aug, 15:30 - 16:30 (UTC)
Sign up
Already have an account? Login
Enter your username or e-mail address. We'll send you an e-mail with instructions to reset your password.