Hi, we're on an old fashioned fuse board and are having a new consumer unit fitted.
Electrician came round yesterday and says we need an isolator switch fitting before he can do the work.
Can anyone advise how i go about arranging this ?
Cheers
Stu
Best answer by Tim_OVO 22 February 2019, 11:15
Updated 27/05/21 by Jess_OVO
What's an isolation switch?

An isolation switch (also known as a 'double-pole isolator') is a piece of equipment which can be installed on a metering supply that will allow the supply to be de-energised post-meter. The isolation switch should be fitted after the meter but before the consumer unit.


What's the purpose of an isolation switch?

An isolation switch is designed to act as a circuit breaker on the mains electrical supply, so that any electrical work that needs to take place within a property can be completed safely by a private electrician. It also negates the need for a supplier to send an engineer to the property to de-energise the cut out (and re-energise afterwards) so that any internal electrical work can take place.


What does an isolation switch look like?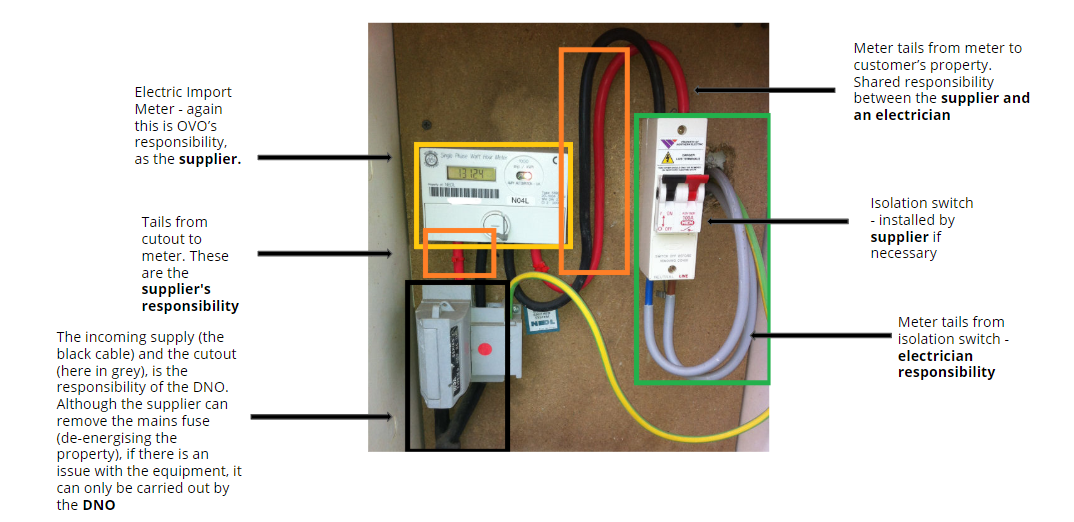 The isolation switch is located on the right of this photo. When the switch is turned off,  there would be no power after the isolation switch, which in turn would allow a private electrician to complete any maintenance work or repairs on the member's internal electrical set up.



Who's responsible for installing an isolation switch?

An isolation switch needs to be installed by your supplier. This is because the supply would need to be de-energised via the cut out and private electricians are not permitted to work on the cut out. Therefore, the supplier would need to arrange for an engineer to go to the property to install one.
 
How can I arrange an isolation switch install?
Reach out to our Support Team in order to schedule in an engineer visit. As a non-essential maintenance job there is a charge for this, check this guide to see the current cost.

 
View original