I use a Sony smart tv to view BBC I Player. It used to perform without a problem. Since having a smart meter fitted a month or so ago it continually disconnects from my hub at about 25 minute intervals particularly in afternoons. I understand the smart meter sends messages via ( it's own Wi-fi ) at this sort of time period.
Has anyone else had this sort of interference. My Tv connects using the 2.4 kHz frequency from my hub.
Best answer by NinjaGeek 27 November 2018, 14:41
Updated on 03/02/21 : The info in this update was provided in this topic thread:

One issue which might occur when you have a Smart Meter installed is poor WiFi performance. Sometimes it can fail altogether.

WiFi can operate in two frequency bands. The earlier standard, still most commonly used, is called IEEE 802.11b and runs at 2.4GHz. The same frequency is used for other wireless domestic products such as door-bells and some remote controls. However, the software protocols for all these devices is different, which is why there is little perceptible interference when two or more are operating simultaneously.

The Zigbee network which connects your Smart Meters and your IHD is another 2.4GHz standard, properly referred to as IEEE 802.15.4.

Unlike doorbells and remote control units, both WiFi and Zigbee are continuously live. Whether they clash or not depends on the channel number which each one uses.

In the UK, WiFi is assigned 11 overlapping channels. In order to avoid degradation of the signal, we normally employ one of channels 1, 6 or 11 because these have no overlap. You can select this manually by logging into your router.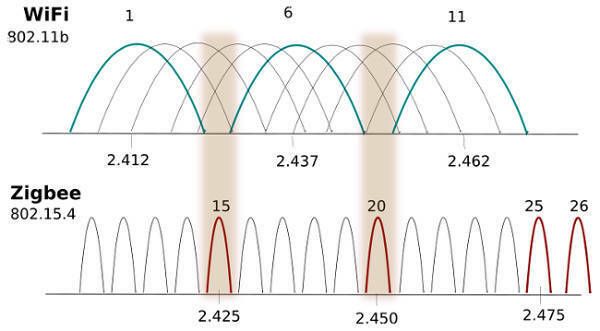 Zigbee has 16 channels, which carry much less data and can therefore be non-overlapping.

In the USA there is a convention that any new Zigbee device will be configured to use either channel 15 or 20. These have frequencies which neatly sit in-between the commonly-used WiFi channels.

In the UK there is no such convention, and it's possible that a Zigbee device could use any of the allocated channels. So if your router happens to be sited close to your new SMETS Meter, there is the opportunity for interference to occur.

All is not lost however. Firstly, you could login to your WiFi router and change the channel it uses.

Failing that, Zigbee itself has an inbuilt Channel Agility. Once it recognises that its frequency has a sufficient level of interference that data is being lost or corrupted, then it will switch to an alternative channel.

This process isn't immediate. Both of your SMETS Meters and the IHD will all be using the Channel Agility protocol to find a common channel which suffers least interference. It might take an hour or so before everything gets sorted. In the meantime, don't switch off your WiFi router because this will halt the automatic Agility process. When the router is next re-powered, the interference will start all over again!

Note that there is nothing which OVO's Installation Engineer can do about such problems beyond noting on the job-sheet that WiFi was lost when the Smart Meters were powered up. Zigbee self-allocates channels (eventually) and the Installation App doesn't have a facility for manual channel selection.

Nor are Installers trained or permitted to start logging into your router and manually changing its channel. And you should have it password protected anyway!
Not got an OVO smart meter fitted yet? Here's the S2 smart meter booking platform. You will need your account number, which you can confirm on your online account. If you're not yet an OVO member, check out our plans and sign up online here. 
Very odd, I have never known this to be an issue. What router do you have?

2.4Ghz isn't that great as a lot of devices now depend on the frequency, You could try splitting the frequency between 2.4Ghz and 5Ghz and connect the TV to the 5Ghz frequency. Or do what I do and plug the TV straight into the router by purchasing powerline adapters which you can buy from Amazon or PC world.
View original