Updated on 17/03/22 by Jess_OVO
Pipe Insulation for your Air Source Heat Pump (ASHP)
In collaboration with our Zero Carbon Homes trialists, we've put together a guide to the pipe insulation which should be fitted alongside an Air Source Heat Pump. Getting this pipe insulation right will make sure your new heating system runs as efficiently as possible so it's really valuable to learn from those who've already been through the installation process.
Below we've combined images and testimonials from members that have made the move away from carbon intensive gas boilers, to help show what to look out for following a visit from your installers.
The basics
@Transparent writes that: "There are three different categories of pipe insulation to be considered:
1: Exterior - must be Class-O, closed-cell, UV-resistant with wall thickness greater than 19mm.
2: In lofts, unheated "plant-rooms", garage spaces or below a suspended floor. This should also have high wall-thickness and the joins taped. It may be subject to condensation but not exposed to sunlight and rain.
3: Internal - Can be the more common Climaflex type held with clips such as those sold here. 
External ASHP pipe insulation
The temperature difference between the water flowing from and returning to the Heat pump will be about 5°C whilst the pump is running. It is therefore important to properly insulate these external pipes in order to prevent heat-loss.
Exterior insulation needs to have two main characteristics:
it must be of closed-cell construction to prevent rain or condensation filling up the voids within the material. They are what provide the insulating properties.
it must be resistant to UV radiation from sunlight.
 
Neither the common grey Polyethylene (Climaflex) insulation, nor the black nitrile-rubber (Armaflex) insulation satisfy these criteria.
If there is little choice available, Armaflex nitrile-rubber can be used, but should then be over-painted with at least 2 coats of a terpolymer resin paint such as Armafinish 99, or ArmaFinish FR. These are available in black, grey or white.
The better choice is to use an EPDM-rubber insulation such as Armaflex HT. This is more commonly sold for use on pipework connections to solar-thermal panels - hence the HT designation for High Temperature. However, it is its resistance to UV radiation which makes solar-pipe insulation suitable for Heat pumps.
Both Armaflex nitrile rubber and Armaflex HT EPDM pipe insulation are sold in 2m lengths with wall thicknesses of 13, 19 and 25mm.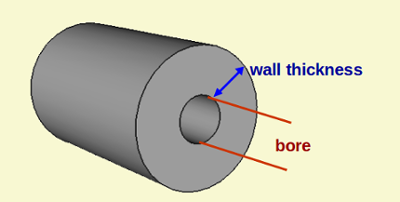 When lagging long runs of 15mm or 22mm pipe, rolls of insulation are also available. However as this roll option is only manufactured with wall thicknesses of 13mm or 19mm, it is of little use for exterior Heat pump pipework in the UK's winter climate. Long pipe runs would require 25mm thickness.

Insulation should cover not just the external pipework, but also every valve. This requires sections to be made from lengths with a larger internal bore. EPDM-rubber insulation is available with bore sizes in steps from 15mm to 89mm for both 19mm & 25mm wall-thicknesses.
Generic "solar" pipe insulation is readily available from BES and BIS (no relation). But avoid buying from Ebay and Amazon sellers unless you really can tell the difference between UV-resistant EPDM and ordinary Nitrile Rubber! You may not be supplied with what you've ordered.
Both types of black rubber insulation are normally referred to as 'Class-O'. This is their fire-rating. They are much less combustible than the grey Polyethylene variety and do not give off poisonous fumes when in a fire.
To accommodate a valve lever, a round hole is made in the insulation on the opposite side to the lengthways split.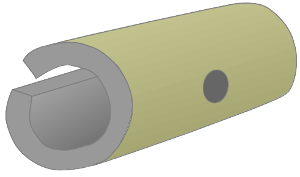 It can be fitted by temporarily removing the handle on a manually-operated valve. That split is then on the opposite side of the valve body, and must be sealed with exterior-grade Class-O insulation strip.
To avoid ingress of rain water, valves in external pipework should not be installed with the lever-handle upwards.
Joins between sections of insulation need covering with a UV-resistant tape. This must not be stretched when being applied. It may unstick itself when it later contracts, and it can compress the EPDM, decreasing the wall thickness and hence leave a weak-spot for heat-loss.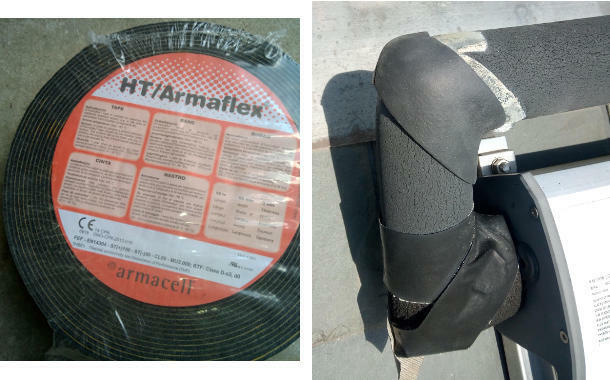 Tape with integrated fabric is best. If you can't find an EPDM tape then Scotch (3M) do a Tough Duct Tape which is UV resistant.
(Duck Tape is also used - mainly by those who've only heard an audible description and don't mind the bill.)
Here's an example of what might be considered good insulation: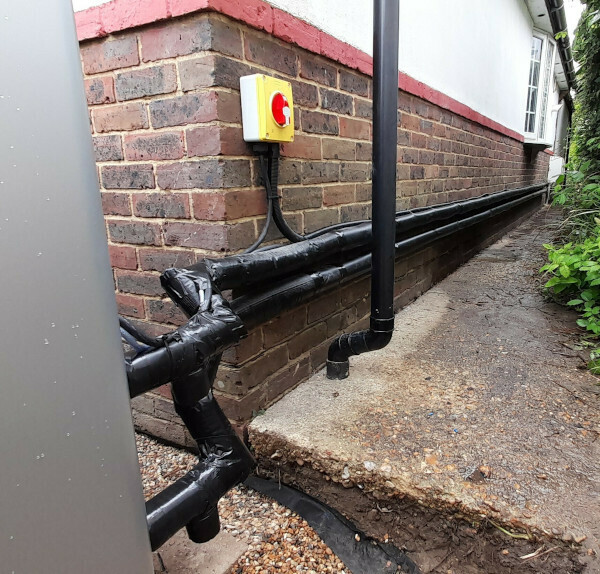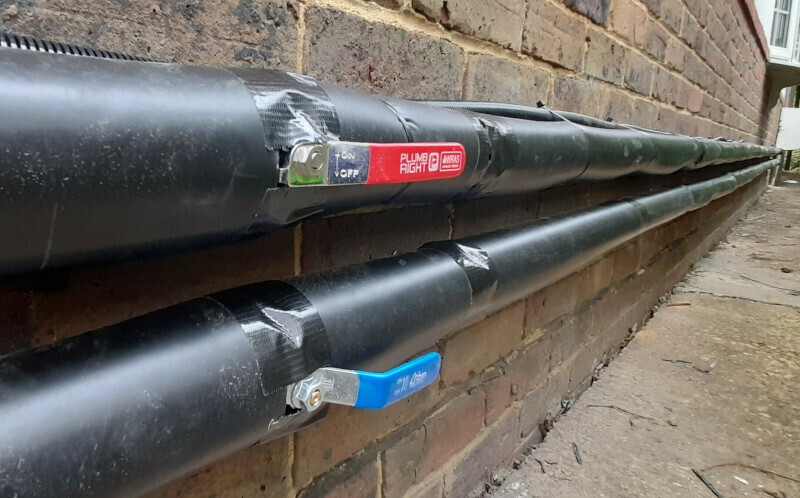 @nealmurphy: "I'm happy that the insulation has been done well and is neat and tidy and I believe suitable materials have been used. Following the independent audit the only comment mentioned about the external insulation was that the joints where the pipes entered the house could be better taped to ensure that it didn't come away."
Here's another example: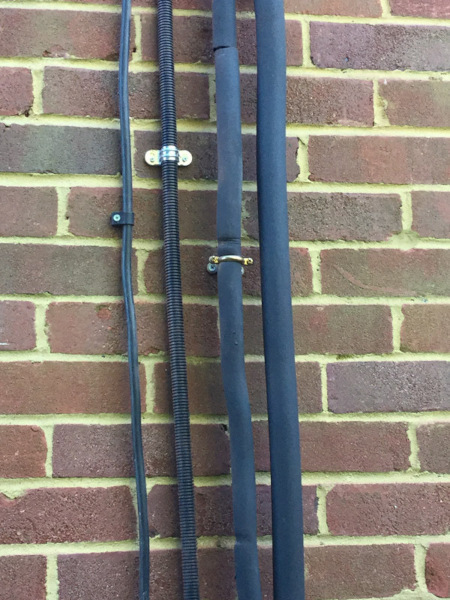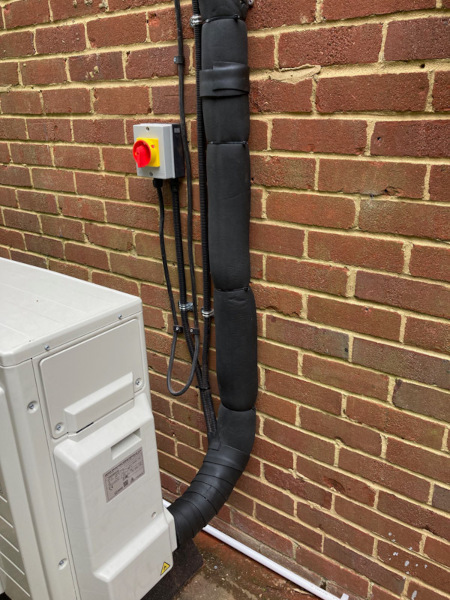 @juliamc: "My heat pump is a split system. An R32 refrigerant takes energy from the outside unit into the inside unit as a gas under pressure (I believe). The insulation for the pipes is more important inside the building to prevent condensation. Insulation on the outside pipework doesn't need to be as thick as that for monoblock systems which contain water, but it does have to be UV resistant. However I now have a good thick covering of Armaflex taped onto the pipes."
 Here are some before and after shots on a different location, one installer vs another: 
Before:
@hydrosam: "External insulation at connections to external heat pump unit showing poor detail with non-UV resistant insulation used to repair corner and cable-ties to hold it on. Valve also not easily operated without damaging insulation.
After: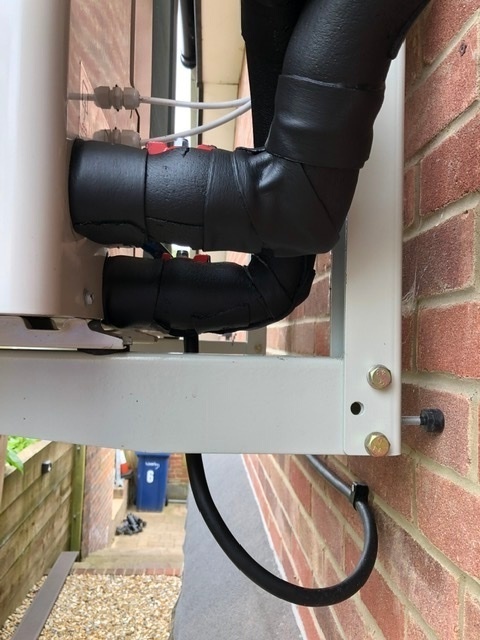 Before: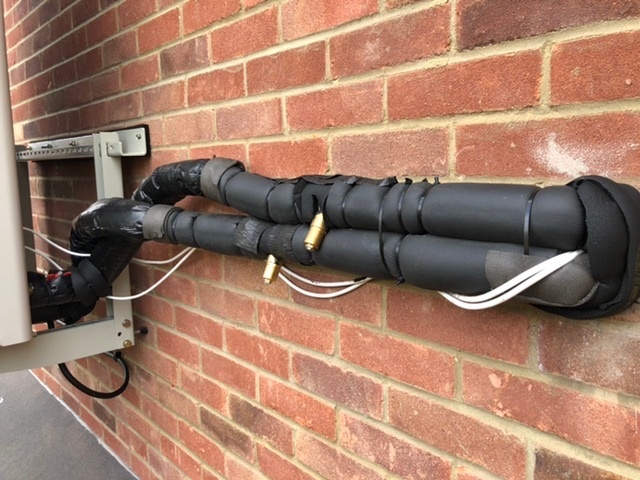 @hydrosam: "External insulation to wall run with non-UV resistant insulation used, joints not taped or glued, cable-ties used to secure insulation which squeeze joints and cause them to open. Entry through wall could allow weather to enter building. Poor detailing around anti-frost valve leaving exposed metal leading to unnecessary heat loss."
After: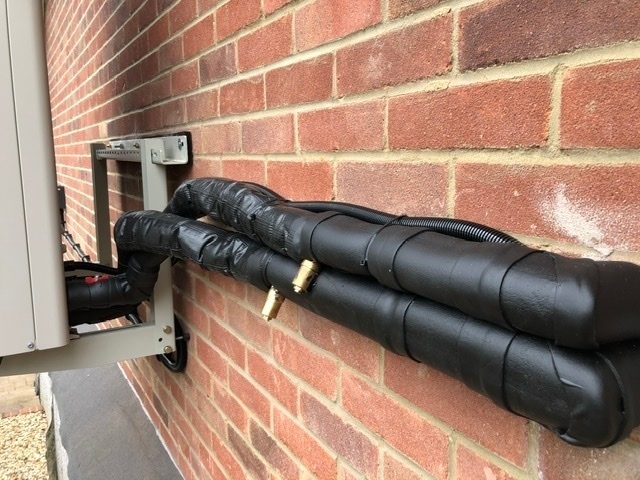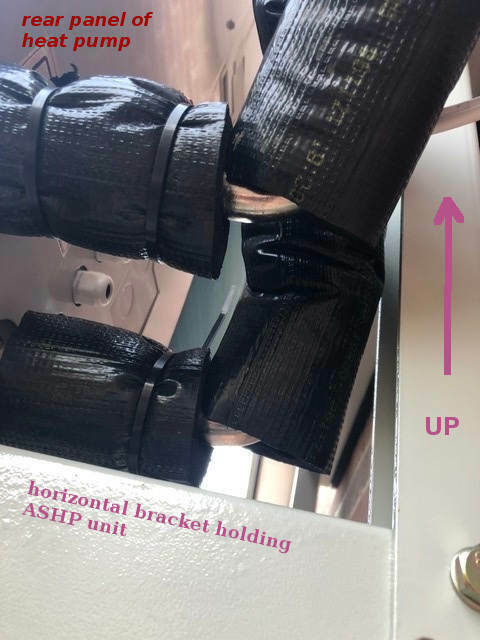 @hydrosam: "External insulation at right-angle bend on pipework showing exposed pipe resulting in heat loss and allowing weather to enter and degrade."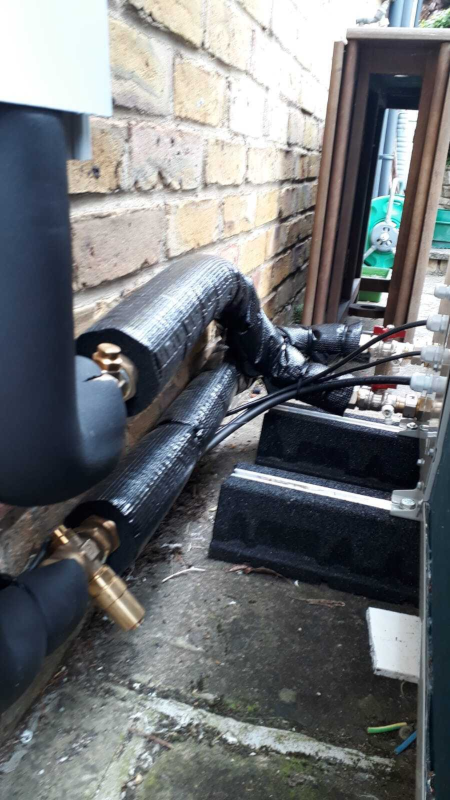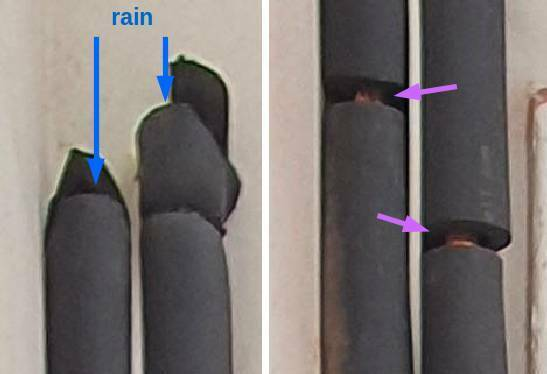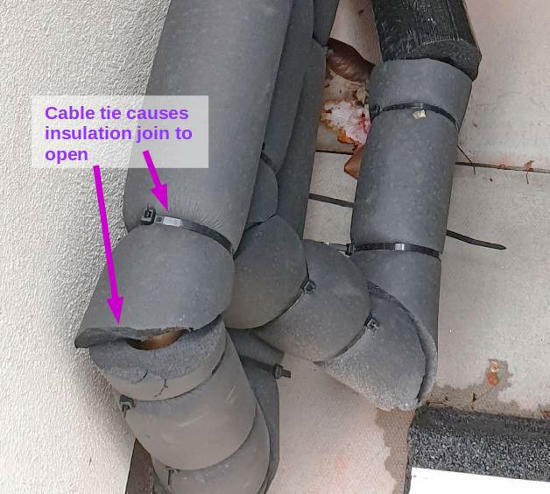 @Transparent writes that: "The metal valves should be completely encased with an insulation tube having a larger bore. A round hole is made in the insulation on the opposite side to the lengthways split.
It can be fitted by temporarily removing the handle on a manually-operate valve. That split is then on the opposite side of the valve body, and must be sealed with exterior-grade Class-O insulation strip."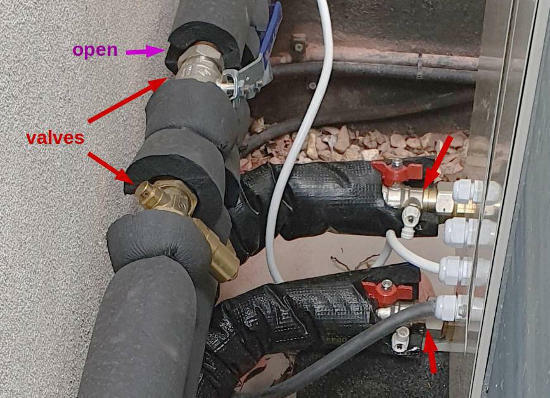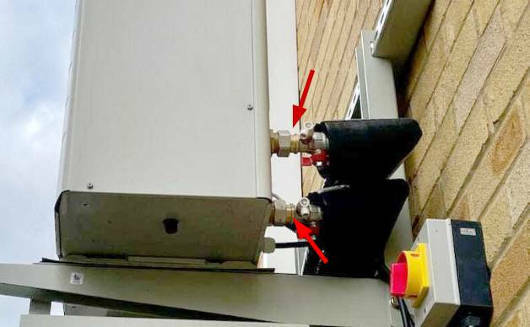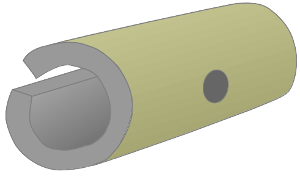 @Transparent: "All joins between sections of insulation, and the split at the back should be taped with Armourflex. Cable ties not only compress the insulation, but also force the joins apart."
Here's a great video, found by @nealmurphy (with permission to share here) showing an approach taken by a ASHP pipe installer and insulator:
Indoor ASHP pipe insulation 
@Transparent: "Once inside the insulation layer of the property it is more common to use less expensive pipe insulation with a wall thickness around 9-12mm. Internal insulation is commonly fitted without needing to tape or glue the joins."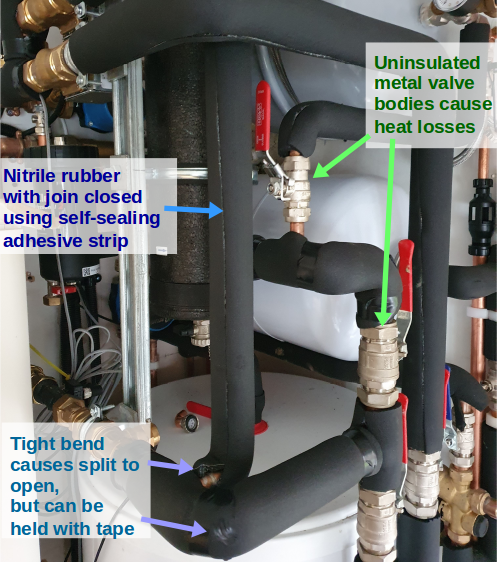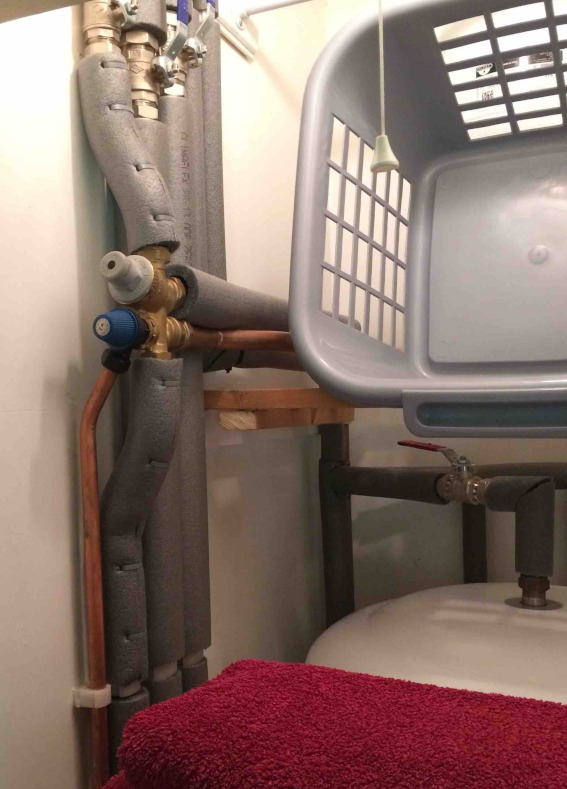 @juliamc writes: "All the hot pipes in the airing cupboard (image above) are lagged with Climaflex pipe insulation. It's very easy to cut through using a bread knife, taking care to get the mitre joints to line up. I've used Climaflex clips (£3.84 for 50) to 'stitch' together the open seam of the pipe insulation, which I found quicker and neater than taping, particularly over the curved pipework where the seam tended to open. It was useful to practice on the airing cupboard pipework before tackling the loft pipes, as any rookie errors and gaps would just allow heat to escape into the airing cupboard, as it does from the brass fittings. Even so the cupboard is noticeably cooler than with my old unlagged pipes."
Here's another before and after combination. Notice the lack of insulation in the before shot!
Before: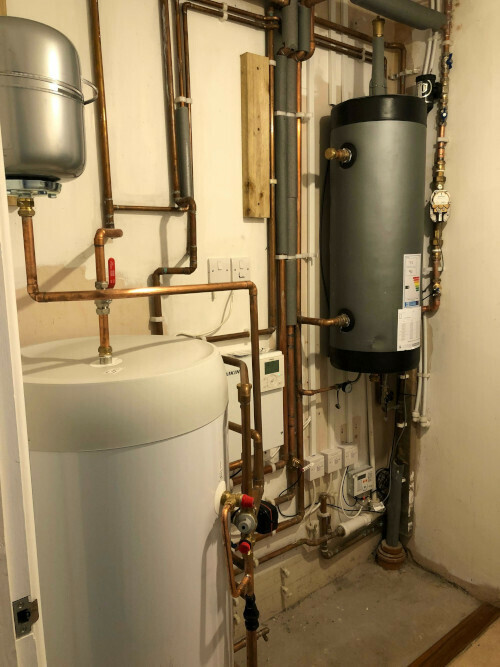 After: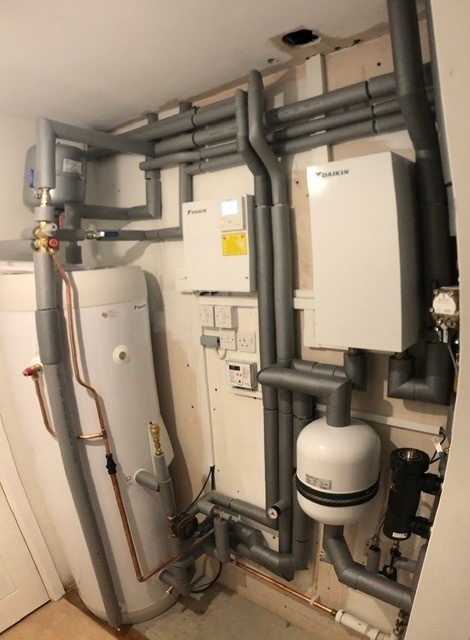 Loft / garage ASHP pipe insulation
@Transparent: "Loft insulation would normally have a much greater wall thickness because the loft in most houses is unheated (above the insulation level). The same would be true for the unheated area below a suspended floor. This underfloor void should have vents to the outside. The air-flow prevents moisture build-up, which would otherwise result in fungal rotting of timbers."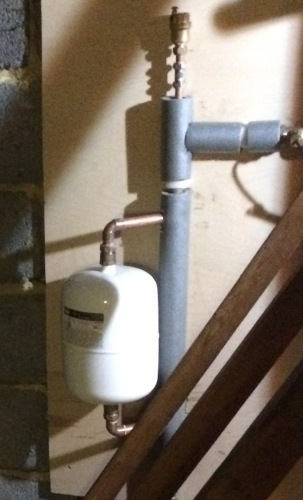 @juliamc: "Photo above show the volumiser as installed with no insulation, and in the image below is my improvement of 25mm foil backed duct wrap": 
@Transparent writes: The most common foil insulation over the past decade has been Triso Super-10 from the French company Actis. But there is now a wide range of foils available from UK-based Superfoil.
Note that foil insulation predominately offers a defence against thermal radiation. The traditional rockwool and glass fibre products counter losses through conduction and convection. They are different approaches and need evaluation for each situation.
In some areas of the UK the Local Planning Authority (LPA) will not allow a house to pass Building Regs if it uses solely foil-based insulation in the attic/roof area. This is a controversial topic, based on the way in which the National Physics Laboratory and BRE specify the tests prior to awarding the required certification.
That product accreditation issue should not prevent foil-based products being used to  add insulation to component parts of a Heat pump installation. It can easily be cut to shape and produces minimal wastage.
@juliamc: "Pipework was roughly insulated with 9mm which I am replacing with 13mm or 20mm Climaflex, however photos show that the insulation tends to shrink ! so I now have a few gaps to deal with":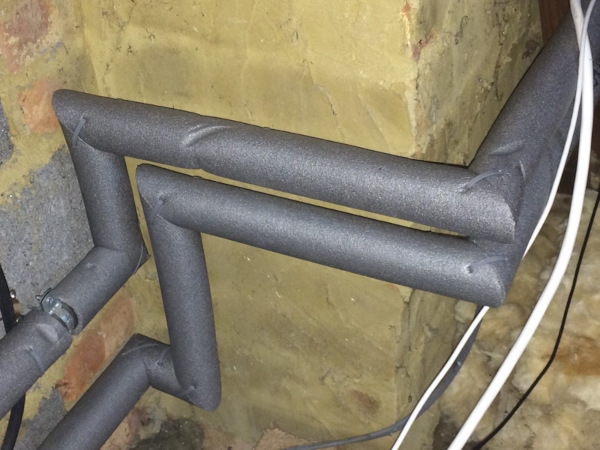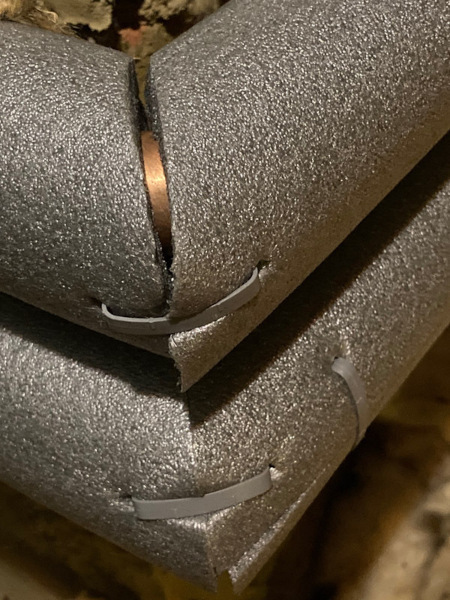 Another example here: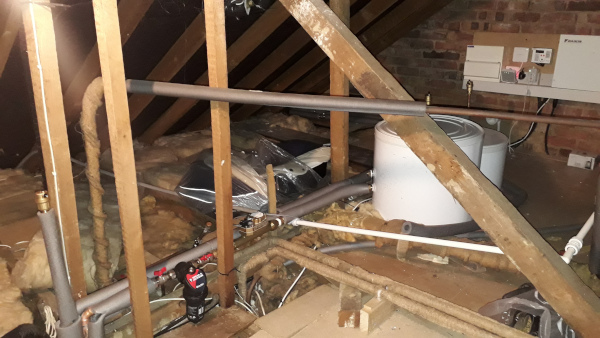 @SandraAA writes: "The half insulated pipe is nothing to do with the ASHP, it's to the cold water tank. The board at the back is the meter board and that no longer has the main controls. The hot water has a controller in the airing cupboard and the heating (including  thermostat) is a wireless Honeywell unit."
@James_N: "Here's the completed pipe insulation which I added. Now any pipe that gets warm has insulation."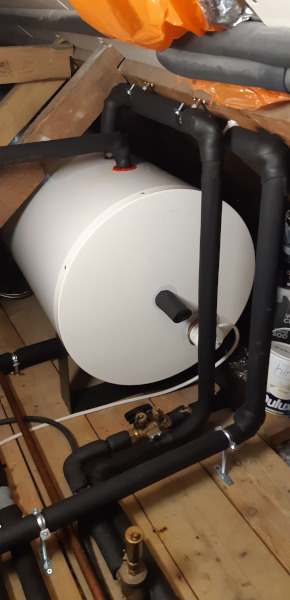 @Amarritt writes:  "The install is tucked into my loft as I had the old gas boiler there. They used the old flue and condense pipe holes to feed the new pipework and swa cable."  
Conclusion
There's many shapes and sizes to a heat pump, and the pipes that connect the system together. No two installs look the same, but there are common principles for effective pipe insulation that are worth getting right. 
Just how much of an impact pipe insulation makes for the overall efficiency (and cost effectiveness) of the system might be up for debate, but we hope this guide has helped you to better understand what good insulation looks like. 
If you're unsure about the pipe insulation for your heat pump, post a few picture below and our community members might just be able to help!