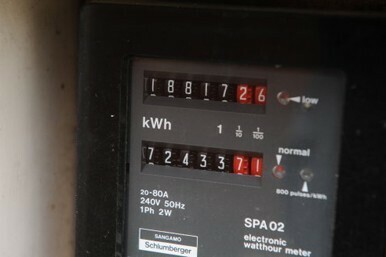 So, some people are lucky enough, or unlucky enough depending on your lifestyle choices, to live in a house with a Dual-Rate meter. You probably didn't know you had one when you moved in. You checked the area, the schools, the bus-routes etc, but it didn't cross your mind to count the registers on your electricity meter. Of course not... No-one does that...

Dual-Rate meters have TWO registers, Peak and Off-Peak, sometimes labelled Normal and Low, or even a cheerful little Sun and Moon. Off-Peak electricity is charged at close to HALF the unit rate.

Lemme say that again. HALF. Half price electricity...

Usually there are 7 hours of off-peak timing, which is why it's sometimes called Economy 7. Some people think it means Economy After 7pm. It doesn't...

But are you Sure you know exactly WHEN your seven hours are? Many of them are Midnight til 7am, or 00:30 to 07:30... But there Are some weird and wonderful set-ups out there...

There's even Economy 10, for example. Off peak electricity with timing like :
0000 - 0500
1300 - 1600
2000 - 2200

That means that even if your washine machine can't go on after midnight because of kids, or because it doesn't Do that, you can pop it on for a bit in the early afternoon, or just after dinner, and still get half price leccy. So it makes sense to Know When...

Now, some new meters kindly have the timings printed on the meter, but older ones Don't. So, how are you supposed to find out When your cheap electricity is?

Well, one way is to ask your energy provider, but i'm not encouraging everyone to pick up the phone, the good guys at OVO already work hard enough...

But I wonder if the Mods here can help...
Best answer by Tim_OVO 2 October 2020, 18:19
Updated 18/05/21 by Jess_OVO
If you have a Smart meter installed by OVO the off-peak times can be worked out using your Meter Point Administration Number (MPAN). You can find your MPAN on the 'Plan' page of your online account or OVO app (download for Android or iOS):
Then use this table below; the first two digits of your MPAN is the 'Area ID'; the 'Off peak' times are on the column second from the right:
Please be advised that Secure, Aclara and Honeywell smart meters don't adjust for BST. The result of this is that during summer your off peak times will be an hour later than advised above. 
If you have meters that were not installed by OVO the off-peak hours may vary. The best way to find out in this case would be reaching out to your supplier (or our Support Team if you're an OVO member)
View original