Smart meter not working at all now, gas hasn't worked since leaving Coop ....only had a problem since changing supplier which wasn't my choice the Coop migrated all their customers to another supplier.
Had an engineer booked for early this year but it was cancelled due to Covid-19 which I understood. Had no feedback from Ovo since. The Co-op had my meter installed and it worked perfectly until I changed supplier.
I understand after hearing a call from an Ovo customer with the same problem who called a radio 5 programme after being told by the ombudsman there was nothing they could do because a third party was involved, namely the National Data Base. So not holding out much hope that my problem will be fixed either. So back to  sending manual energy readings.
Best answer by Transparent 21 August 2020, 15:25
This is useful @Bar58 and thanks for throwing lots of technical stuff in our direction.
So your L&G E470 electricity meter is a SMETS1 type.
These are being upgraded "over the air" to SMETS2 capability and migrated onto the National Smart Meter Network.
The timetable for migrating SMETS1 meters is helpfully published on the independent SmartMe website - an excellent source of useful information. I'll reproduce the relevant table here because I've added a minor amendment: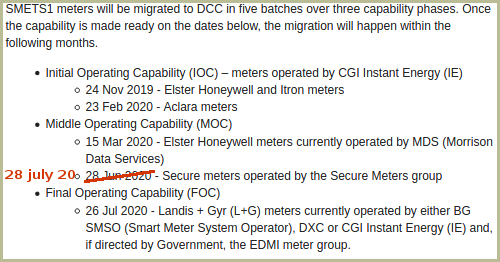 As you'll notice, the SMETS1 meters made by Secure, which OVO fitted, have just started their upgrade route. This will take the best part of a year. The process is starting with those houses under the Priority Services Register with OVO. This ensures that they can all be moved across before the winter months arrive. (Good plan!).
The Landis & Gyr meters are in the final batch to be migrated. The start date will most certainly have slipped a bit, but migration should still start before autumn.
The reason why OVO have been able to read your electricity meter up until recently is because they and Co-op both selected the same carrier for their Wide Area Network (WAN). But I'm still puzzled why you needed to submit gas readings manually. That link should've stayed operational too.
There's a large Topic here about IHDs which state "Waiting for current data".
In your case I wonder if the Home Area Network has broken precisely because Landis & Gyr have commenced downloading their part of the code to upgrade your meter to SMETS2.
Are you following this so far?
View original