Smart meter not working at all now, gas hasn't worked since leaving Coop ....only had a problem since changing supplier which wasn't my choice the Coop migrated all their customers to another supplier.
Had an engineer booked for early this year but it was cancelled due to Covid-19 which I understood. Had no feedback from Ovo since. The Co-op had my meter installed and it worked perfectly until I changed supplier.
I understand after hearing a call from an Ovo customer with the same problem who called a radio 5 programme after being told by the ombudsman there was nothing they could do because a third party was involved, namely the National Data Base. So not holding out much hope that my problem will be fixed either. So back to  sending manual energy readings.
Best answer by Transparent 21 August 2020, 15:25
Updated on 12/03/21: The info in this update box is taken from our topic guide on Landis+Gyr E470 smart meters, here. We made this guide as some E470 smart meters are S1, and some are S2. 

What does a S1 Landis+Gyr E470 look like?

Here's an example of one installed by British Gas/Centrica:
 
The most common characteristics of the S1 versions are the fact they have a black border surrounding the display, and will often have a separate Comms Hub next to the meter, such as the Trilliant SEAP-2001-V. If you have one of these, your gas meter will also be S1 and is probably a Landis+Gyr G370.

If I've got one of these, can I switch supplier without breaking it?

Unfortunately, I've got a bit of bad news there. To get the best info, I need to call in help from SmartMe, one of the resources we use here a lot.

While the plan is to upgrade as many S1 smart meters as possible to S2 firmware and migrate them to the National Smart Meter Network via the Data Communications Company (DCC), it's running a bit behind schedule at the time of writing.

The latest details we have are that S1 L+G meters are planned to be migrated around Autumn to Winter 2021, but this may still change. If you've change supplier in the meantime and your meter went dumb, it should recover after this process completes.

I'm with British Gas right now and they installed the meter, is that a problem?

I'm really sorry to say that due to the fact British Gas/Centrica are using their own proprietary WAN that no other supplier can access, if you switch away from them now, your smart meter will almost certainly go dumb temporarily. Don't let this put you off though! It simply means you'll just have to put manual readings in for a bit.

If the meters were installed by another supplier and are still S1, they might still work fine with a few suppliers. Please check first!

All of these meters are being included in the migration. Once DCC takes over control, British Gas won't be involved anymore and your meters will work fine everywhere.

Will these meters work with OVO?

​​​Not yet, but they will soon! OVO chose to go with Secure branded meters rather than L+G back in the S1 days, so the only S1 meters OVO can support are those from Secure. However, OVO has got full support for all S2 meters and S1 meters from any brand that have been upgraded to S2 and migrated to DCC. My own Aclara SGM1311 (guide here) that I like to call Raichu is one such meter.

Feel free to switch to OVO anyway if you wish. Once the meter starts working, you'll be notified.

What does a S2 Landis+Gyr E470 look like?

Good question! Here's an example of one that was originally installed by EDF:
Pretty much all S2 L+G E470 meters look a bit like this one, but might not have the supplier stickers. They never have a black border around the display, and will always have one green and one grey button - but might not be in the same places.

If you have one of these meters, the exact gas meter you have may vary.

Will these meters work with any supplier?

Yup! As the S2 variant, these ones work freely with any supplier, even if you're no longer with the one that installed the meters.

This is useful @Bar58 and thanks for throwing lots of technical stuff in our direction.
So your L&G E470 electricity meter is a S1 type.
These are being upgraded "over the air" to S2 capability and migrated onto the National Smart Meter Network.

The timetable for migrating S1 meters is helpfully published on the independent SmartMe website - an excellent source of useful information. I'll reproduce the relevant table here because I've added a minor amendment: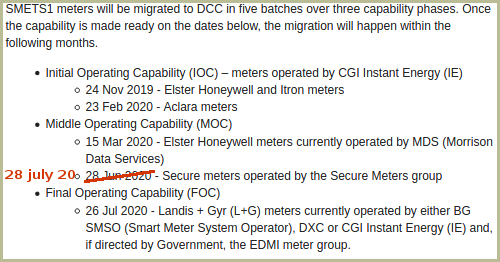 As you'll notice, the S1 meters made by Secure, which OVO fitted, have just started their upgrade route. This will take the best part of a year. The process is starting with those houses under the Priority Services Register with OVO. This ensures that they can all be moved across before the winter months arrive. (Good plan!).
The Landis & Gyr meters are in the final batch to be migrated. The start date will most certainly have slipped a bit, but migration should still start before autumn.

The reason why OVO have been able to read your electricity meter up until recently is because they and Co-op both selected the same carrier for their Wide Area Network (WAN). But I'm still puzzled why you needed to submit gas readings manually. That link should've stayed operational too.

There's a large Topic here about IHDs which state "Waiting for current data".
In your case I wonder if the Home Area Network has broken precisely because Landis & Gyr have commenced downloading their part of the code to upgrade your meter to S2.
Are you following this so far?
View original