Part 2: Wet Underfloor Heating systems
Whatever is the final floor surface, water needs supplying to the heating pipes at around 45°C. That should allow the surface temperature to be maintained at about 22-27°C.
Wooden floors can be damaged at higher temperatures whilst tiled/stone floors cease being comfortable in bare feet.
The optimal method to supply the required 45°C to the distribution manifold is to use a Thermal Store.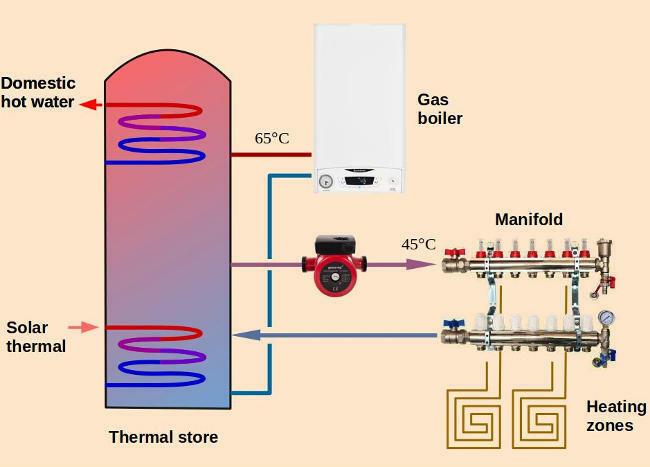 A Thermal Store looks similar to a traditional hot-water tank. However, instead of the main body of water being that which comes out when you turn on a hot tap, the tank is filled with the water that supplies the UFH pipes and is heated by the boiler.
The tank must be tall enough to provide a thermal gradient from bottom to top. Taking out water at a midway point creates the required 45°C for UFH.
In the above diagram I've added one top-coil to generate domestic hot water (DHW) on demand, and one lower coil to provide a second heat-source besides the boiler. In practice you might have yet another heating coil and one or two electric immersion heaters too. The whole point is that the thermal store can collect and retain heat from a number of different sources.
So what do you do if you want UFH but don't have the space or finances to install a thermal store?
The answer lies with a mixing manifold: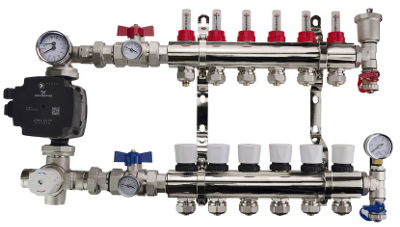 This 6-port mixing-manifold at £350 is one from Underfloor Heating Express although there are numerous suppliers online with a variety of options available.
The mixing manifold connects straight to your main boiler feed. To lower the water temperature to the required 45°C it takes a proportion of the colder water from the Return side and mixes it back into the 65°C + water from your boiler.
Return to Domestic Heating Part-1: Strategies
UFH Manifolds
The Manifold is the distribution point from which all UFH loops are run. There is usually a separate one for each floor, and it may have up to a dozen pairs of ports to which pipes are connected.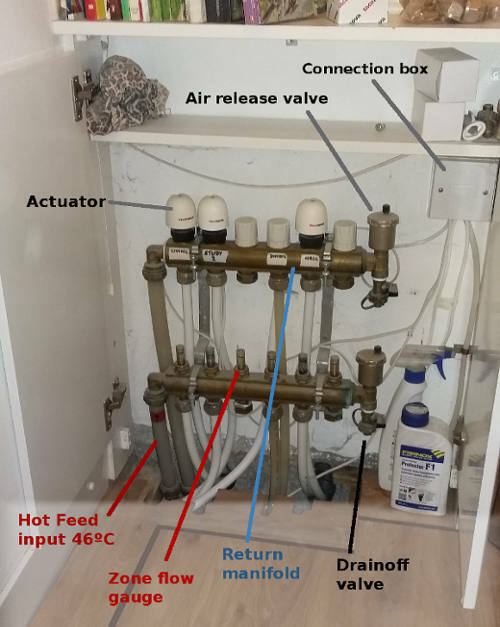 Once connections are made, access to the manifold is rarely required so they are usually sited in a cupboard somewhere near the centre of the house.
The photo above shows a ground-floor manifold with six possible zone connections. Four currently have pipework connected, three of which have the temperature-controlled actuator fitted to the return side.
This manifold is made of brass, but stainless steel is also now common. It is made by Tiemme in Italy and has ¾" BSP standard male ports for each zone, and a 1" BSP female thread for the flow & return main connections.
By way of comparison, here's a 7-zone Tiemme manifold with the more common butterfly valves on the main flow & return feeds. The flow connection has a thermometer, whilst the return connection has an empty thermometer pocket.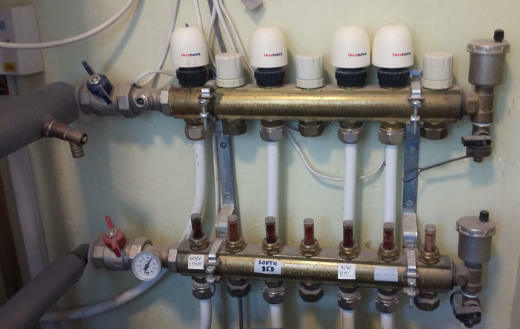 The main butterfly valves on this manifold are partially closed in order to restrict the maximum water-flow and provide a level of "balance" with another manifold which is further away from the heat-source.
Pipes and connections
UFH pipe must prevent oxygen migrating through the walls, leading to corrosion within metal parts of the heating system. The type most often used in the UK is PEX (cross-linked polyethylene). This is lightweight and flexible.
I most cases I use 3-layer PEX with a central layer of aluminium. This allows it be bent around a curve and then remain in that shape.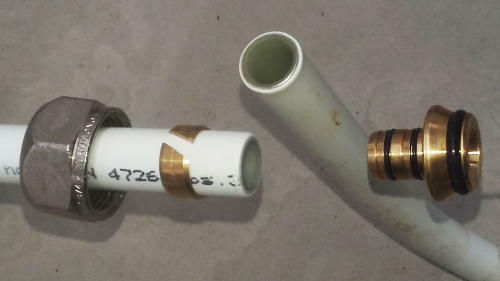 PEX pipe is prone to degradation from UV light. Although it can also be used above floor level to connect radiators, this should be done with care so as to eliminate locations with sunlight.Larger diameter pipework between the heat-source and the manifold can be Polybutylene, HDPE or copper. All three types are widely used within the plumbing trade. The UFH pipe within each room is usually laid in a complete run without any connections. For that reason it is supplied in lengths of 100-200m.
Try to choose a generic pipe, available from several suppliers. You don't really want a pipe of a special style or size which would be difficult to find in future. Sizes commonly used are those with external diameters of 10mm, 15mm and 16mm. The PEX pipe in the photo is 16mm; that's 2mm wall thickness, and thus a 12mm central bore. The smaller the bore, the higher pump pressure you'll need to circulate the water.
I've standardised on using manifolds with ¾-inch BSP threads and 16mm under-floor pipes. The connectors in the above photo are made by several manufacturers, including Reliance. They can be bought from suppliers such as Underfloor Heating Supply and Underfloor Parts. Easy-fit push-connectors are available from a number of manufacturers. In some cases that means you must also purchase the manifold from that same company. Invariably this comes at increased cost.
Forward to Part3: Installing UFH in solid and suspended floors.