Updated on 24/09/21 by Jess_OVO
You've packed your bags, got the removal van ready, and made sure you've got the contact number for the nearest takeaway to your new place, but how do you let us know you're moving?
It's simple to do by logging in to your online account or OVO app (download for Android or iOS) - here's how:
Step 1
When on the homepage click on the 'Moving home' menu option to the left (or in the top right on the app):
You should now see this screen:
Step 2 
If your moving date falls within the next 28 days, or you've already moved, put your moving date in the day, month and year fields, and hit confirm.
Step 3
You should then be greeted with this confirmation screen: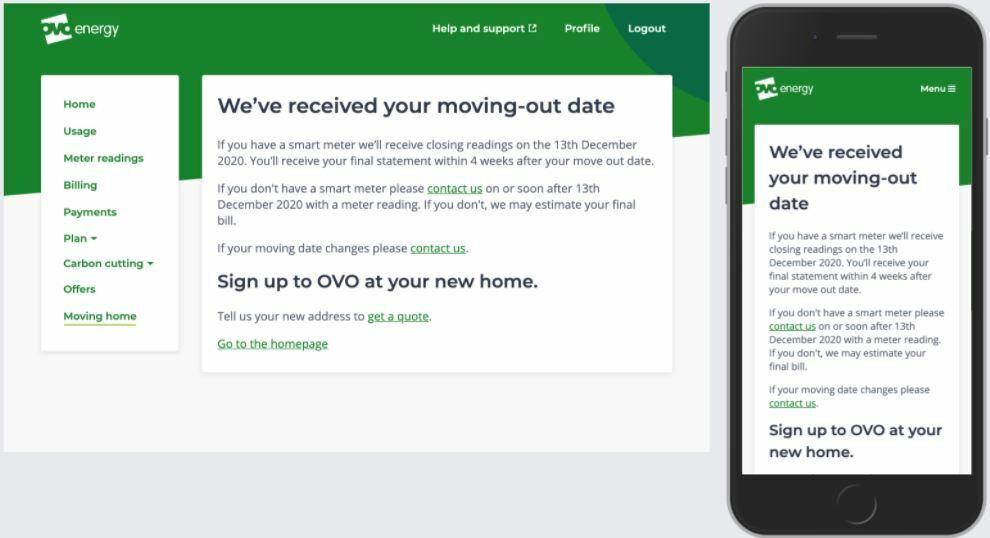 If your move out date changes, or you're unable to complete this process online - reach out to our Support Team to make sure we can get everything tidied up.
Step 4
Don't want to leave us completely? - Click 'get a quote' to see the plans we have available at your new home! 
Please be aware that the mobile phone images shown above are what you'd see when using your online account via your device's internet browser but the same process can be completed on the OVO app.