How much do OVO change to have meter tails upgraded from 16mm2 to 25mm2?
Best answer by Transparent 2 December 2020, 16:19
Well since these two sets of tails both require the wire seals to be broken on the meter as well as the Service Fuse, it will certainly have to be OVO who do the work.
If you were upgrading from a traditional meter to a Smart Meter then one set of tails would be free of course. The ones to the Consumer Unit would very likely be at nominal additional cost.
However, it were my installation, then I'd certainly go for having a separate 100A double-pole isolator between the meter and the Consumer Unit, which is priced at £158 on the Price-list, here.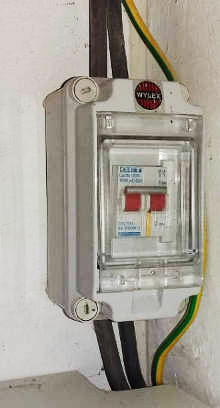 This isolator would in future allow a qualified electrician to work inside the Consumer Unit without needing to "pull the Service Fuse" and then get your regional Distribution Network Operator to test and re-instate it. I assume that this isolator cost would include the tails upgrade as part of the work.
Could you also please fill out your Forum Profile page? That's where I look to see what type of meter you have and which DNO region you're in. Thanks.
View original