I've been using PV Solar Panels off-grid for about 20 years. I have built a number of devices which can use the DC power directly rather than convert it to 230v AC mains first. I even have solar-powered chickens with timed coop-lighting which fools them into thinking they have Mediterranean day-lengths. Lots more eggs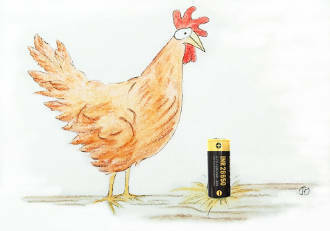 This year (2021) I've started an extensive revamp of my rooftop solar panels, and had one completely new array installed professionally by an MCS-accredited company. That allows those panels to be grid-connected either using an inverter or a Storage Battery.
Fortuitously my renovated Devon farmhouse has an extensive south-facing roof at the ideal angle of 35°
To the left of the photo is a scaffold platform under construction. This provides access to install two rows of panels above the glass roof.
Most professional PV installations use horizontal aluminium rails and clamps to hold the panels in place. Before the rails can be fitted, the first task is to fit strong stainless steel brackets to which the rails will be bolted.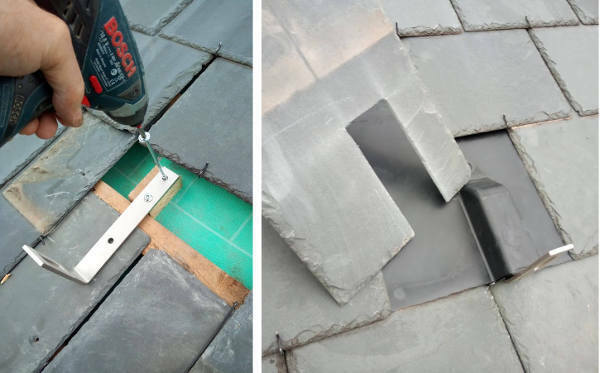 Fixing the brackets was relatively easy in my case. When I had re-slated the roof about 8 years ago I used hooks rather than copper nails. The hook allows each slate to be slid out individually. The photo on the right shows a plastic shield fitted between the slate rows. This is a SolarFlash kit which provides a highly weather-tight seal around the bracket.
It is usually the case that a bracket is attached to the rafter below using an 85mm long M8 stainless screw. However, I have a warm-roof construction, requiring 180mm-long screws to do the job!
The HSE 'Working at heights' directive means that fixing roof-top panels normally requires scaffolding. This would be prohibitively expensive to build above my sloping glass roof with a span of 8.6m. Instead I fixed the first few brackets from a roof-ladder, and then used lightweight angled platforms hung from the brackets I'd just fitted.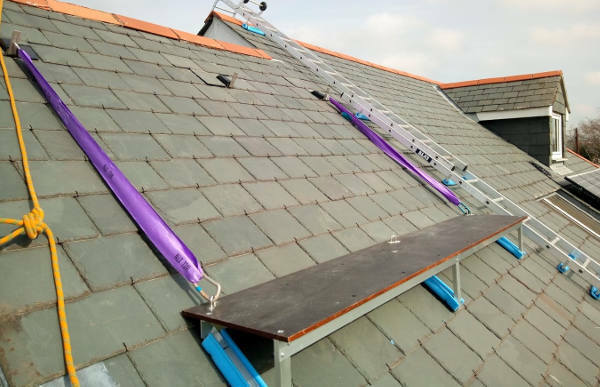 The versatility of these platforms enables them to be moved across the roof surface to reach the furthest point from the scaffold access point.
The next photo shows the first pair of aluminium rails bolted to the brackets at the far end of the run.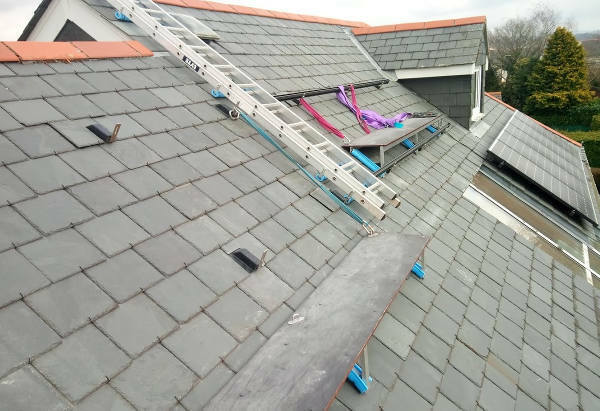 Rails are available in lengths of 3.0 - 3.3m. I'm using the Fastensol system which is available from major suppliers such as Midsummer in Cambridgshire.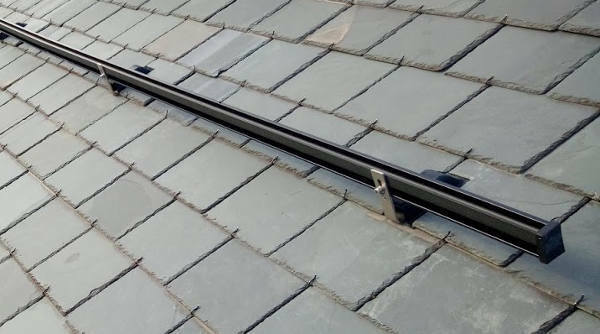 There are instructions for each manufacturer's PV mounting system which can be used to find the required maximum distances between brackets and the inter-rail spacing. The Fastensol manual can be downloaded from Midsummer's site.
Lengths of rail can be cut with a hacksaw and joined together using a fishplate which slides into a groove at the back of the rail.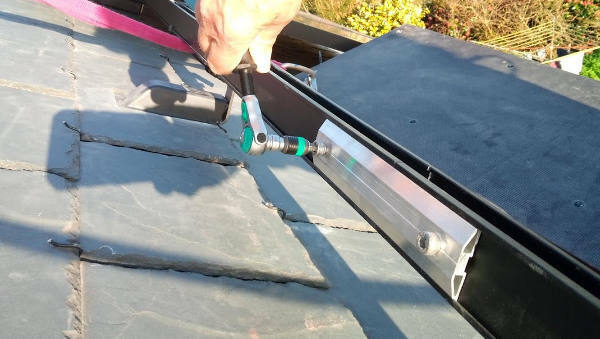 Safety: Although you can't see from these photos, please note that I am wearing an approved Fall Arrest Harness, and tethered to the roof at two points by separate ropes or slings.
The ground area below me is clear; no one can be hit by a falling slate or tool.