Hi
Now, I know for a like for like type of light bulb the title will be the case - e.g. 3w LED bulb will be cheaper to run than a 7w LED light bulb and a 5w energy saving bulb will be cheaper than a 10w energy saving bulb and so forth.
But what if I am comparing different types of bulb? So is it still the case that a 5w energy saving bulb will be cheaper than a 7w LED bulb? All the advice I've read seems to say that LED is pretty much always cheaper 'in the long run' but that also takes into account the purchase cost of the bulb in the first place. I am only interested in the running costs and disregarding the purchase costs.
Then what if I have a combination of bulbs? Would I just add up the total wattage? So in this example, will an uplighter using a 5w energy saving bulb be cheaper than a ceiling light using two 3w LED bulbs?
Many thanks in advance
Best answer by Transparent 30 September 2019, 12:25
Wow! Big question,
@Chubba
!
My main response is that we need to move away from choosing lights by the number of watts they consume.
The real figure we need to look at is Lumens. This is how much illumination the light is providing. It is usually stated on all LED lights, albeit sometimes in small print!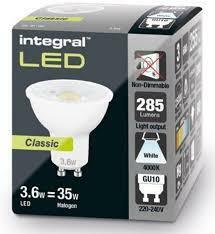 An efficient LED light will output more lumens per watt of power it consumes. You should be aiming for somewhere as near 100 lumens per watt as you can get. The GU10 bulb above operates at 79 lumens/watt, and
Integral
is a well-respected manufacturer.
A typical LED "bulb" from a DIY store may offer much less. Even in a brand new house, Building Regulations only require an efficiency of 45 lumens/watt, which is appalling!
LEDs running from mains electricity require two stages of electronics to operate them:
convert 240v AC to a low-voltage DC, usually below 50v
drive the LED emitters with a constant current
This electronics may be anywhere from 75% to 95% efficient in its conversion. The wasted energy is given off as heat. Heat is very difficult to remove from a bulb, which has to meet a standard "size". Better-engineered bulbs have extensive aluminium fins to radiate the heat away from the LED emitters themselves.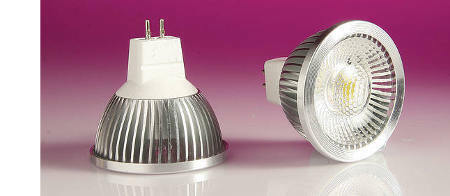 These are the LEDlite range from
TLC-Direct
. They generate 648 lumens from 6.5w (99l/watt) and cost about £12 each.
As a guideline a typical living room with a central light fitting will require about 1500 lumens to provide enough illumination to read by.
The cooler an LED emitter runs, the longer is its lifetime expectancy.
To achieve better heat dissipation, don't use bulbs at all. It's much better to install a dedicated LED unit where there's a large mass of aluminium to keep the emitters cool.

Personally I prefer LED lights which still illuminate the ceiling, rather than using downlighters embedded in it. Dark-ceiling rooms can feel oppressive. However, to use reflected light, such as "uplighter" you should double the number of lumens required.
View original