Many questions in this Forum section have one problem at the heart of them - the lack of available Smart Meter Installers.
At the time of writing (June 2018) there are just under 5 million domestic properties in the UK with Smart Meters installed. The Government target is to have all 44 million homes fitted with Smart Meters by the end of 2020.
Without a change of strategy, this target is unattainable.
So how would you feel if
this
guy was to become a fully-qualified installer...?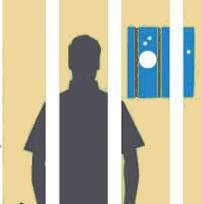 British prisons already run workshops in plumbing, plastering, woodwork and IT skills. So how hard would it be to select suitable inmates to undertake the basic 12-week training course in Smart Meter Installation?
Last week's Home Office figures (22nd June) showed 83,000 people in British prisons. It costs us £65,000 to put them there for 12 months, and £40,000 a year thereafter.
For Resettlement Schemes to work, those out "on licence" need long-term job prospects whilst under the care of the Probation Service. Smart Meter installation offers just such employment. Beyond the meters themselves, those same technicians can later progress to EV Chargers and Home Batteries. Few other positions offer such long-term opportunities.
Is this an acceptable solution?