SMETS2 5 port smart meters - your guide
You're now able to book 5 terminal/port SMETS2 meter installations online or via your online account, subject to available engineers. 
What is a 5 terminal meter?

A 5 terminal/port meter is an electricity meter with an extra terminal. This extra terminal usually wires up to alternative heating solutions such as underfloor heating, storage heaters, or Kaluza smart heat.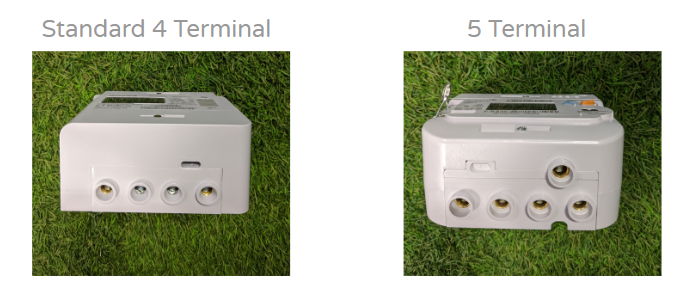 How does the SMETS2 5 terminal meter work?

5 terminal meters are most often used for members on two rate tariffs. The 5th terminal will only be powered on during the off-peak hours of the your tariff. 

Technical info here, but for those interested, unlike SMETS1 the 5th terminals behaviour is not dictated by the tariff set up on the meter, but instead through an auxiliary specific service request called ECAUL (Control Auxiliary Load). The ECAUL process consists of two service requests (6.14.1 & 6.14.2) that allows us to set up the on/off schedule for the 5th terminal of the meter. The on/off times will reflect switch times of your tariff.  The ECAUL will be sent to the meter once it is set up (commissioned). 


Troubleshooting

If your heating isn't switching on as expected following an S2 5 terminal meter exchange, it may be because of an issue with the configuration of this meter. 
If your heating isn't turning on at all or switching on but at a different time to when you expect, reach out to our Support team.
Both of these scenarios are likely to be related to the smart meter, which we can usually fix remotely. 
Guides
If you're not sure about heating systems, we have a great 5 part tutorial made by one of our volunteers. Check out part 1 here
Info on SMETS2 meter installations here 
SMETS2 smart meter guide - here
SMETS2 Smart Meter Health Check guide - here
That's it for our guide on 5th port SMETS2 smart meters. Have we missed anything? Let us know as a comment below.