Hello, 
I understand that the 5-terminal smart meters can replace the old radio teleswitch meters that switch one load i.e. just heating, however I know of some old RTS meters (as my friend has one up in the north of Scotland) that have separate load switching for heating and separate load switching for water both are switched at different times and record usage separately for billing, so effectively I think this would be a 6-terminal meter or multiple smart meters, mpans etc.
 
Can a 5-terminal smart meter accommodate this scenario, if not are there other such smart meters that can? I think they are really worried  they'd be left behind on the smart meter revolution!
Thanks
Best answer by Transparent 24 November 2020, 20:46
Updated 23/02/21 More info on RTS here.
Wow… this is a massive subject!
I'm afraid I don't have time to write the length of article to do justice to your question @Smartinfo but I can at least provide a foretaste of what the future holds. Hopefully that will enable you to reach a more informed decision on what to do.
There are no 6-terminal Smart Meters approved for use in the UK. Nor are there likely to be.
The 5-terminal meters (two live output ports) are really an interim solution to permit installation in houses that already have a tariff such as Economy-7 connected to heavy-current loads.
Multi-terminal meters do little to combat Climate Change, and have very limited potential to increase the use of renewable energy sources. As such we shouldn't expect to see much effort expended on further development in this direction.
The Government strategy is called Demand Side Response. It was laid down in law during the Coalition Government in 2013 when Sir Ed Davey was Minister for Energy. The Smart Meters we are now seeing deployed have emerged from those regulations and they form the backbone on which future energy-related technology must be established.
All SMETS2 meters have a minimum 5 channels of Auxiliary Load Control Switches (ALCS). These channels allow domestic devices to be switched on/off using commands sent through the secure/encrypted network operated by the Data Communications Company (DCC).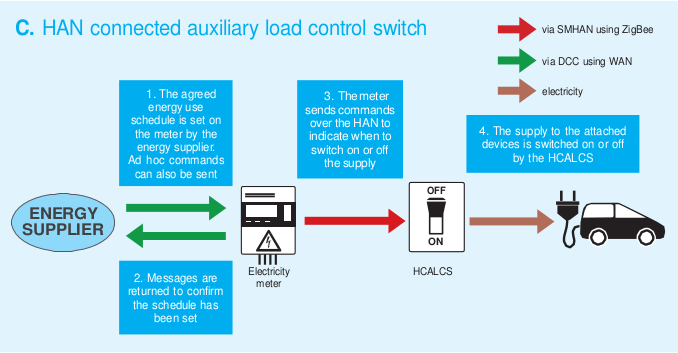 Smart Meters operate on the basis of half-hour (HH) time-frames. They also contain an inbuilt random-number-based time-shift. This ensures that ALCS commands are enacted over a period around the set-time. That avoids the problem of having  all of those Electric Vehicles which have been programmed to commence charging at midnight, then doing so simultaneously and crashing the National Grid!
The downside of the National Smart Meter Network is that it only operates according to the 48 HH time-slots each day.
So if it were known that there might be a surplus of renewable energy from the Avonmouth wind-turbines at 4:20am, there is no command system to delay charging EVs in the Bristol area until the energy supply and demand could be measured.
It's worthwhile looking at the range of domestic devices which could be connected to a smart control system: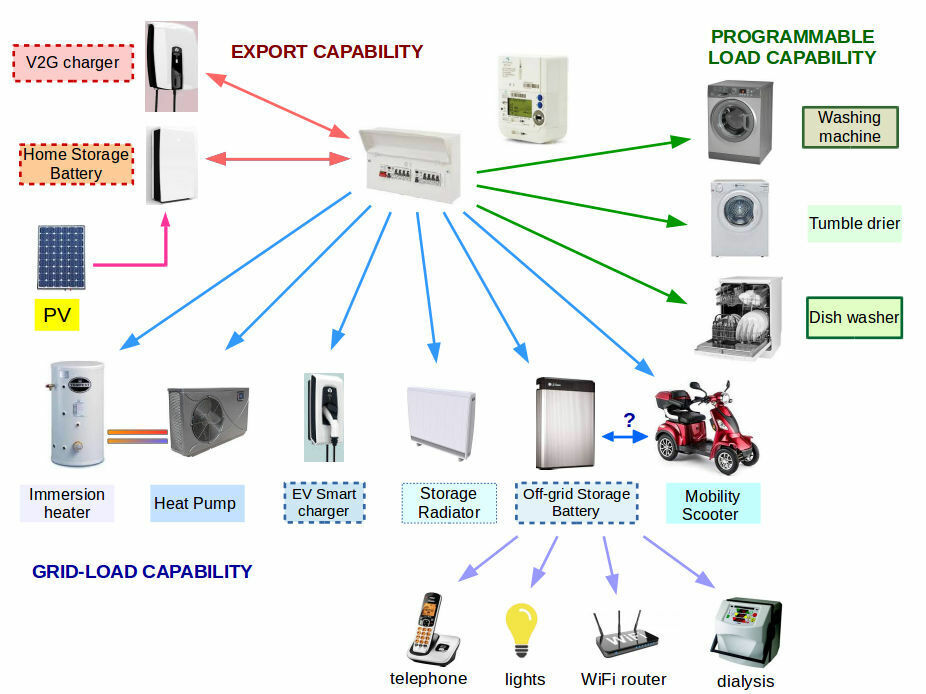 In many cases the customer won't mind when their suite of smart devices are actually taking power. Those with a heat-pump would be quite happy to have it operating at low cost on a sunny afternoon instead of during the more expensive early-evening peak a short while later. After all, the energy can be stored and used throughout the evening anyway.
This is the direction which Kaluza are taking with their Flex Platform. At present they have side-stepped the HH timing constraints of ALCS and are instead transferring commands and data across the internet.
The forthcoming Trials with Heat Pumps, and Storage Batteries with solar input are being used to inform the software how it should function so as to make best use of the available electricity generation. At the moment it trades electricity demand and supply only on a National Grid basis. But there's no reason why it couldn't be extended to include inputs from regional renewable energy resources.
Yes I realise that I've strayed substantially from the original question about 5-terminal meters.
But I make no apologies for trying to show where we're going in future. Only when we lift our heads and see the horizon, can we begin to appreciate how we should tackle the short-term obstacles that currently surround us.
View original