OVO's values are
Be The Good Guys
,
Find A Way
and
Build Something Great
. Being the good guys is about being open, honest and fair. To better live our values we'd like to share more about our work on the OVO mobile app for iOS and Android.
==The history of our apps==
Previously, OVO launched native mobile apps for Android and iOS allowing customers to submit meter reads, check their usage and see their statements. The apps were well received at the time, and by 2017 we had 15% of our customers using the app on a monthly basis.
However, throughout 2017 we started to see more and more feedback from customers that the app was not meeting their expectations. We were developing more and more online self-service features for the web in My OVO, such as OVO Live (smart usage and energy breakdown), direct debit control, card payments, smart meter installation bookings, tariff upgrades and many more smaller improvements. It became clear that we weren't able to keep up with this rate of improvement in the mobile app.
Our increased speed of improvement is because we invested heavily in our technology team and grew significantly through 2017. However, our ability to mirror this rate of change using native technologies didn't and couldn't scale in the same way, partly due to the native and web technologies we had selected. It was also in part due to the complexities of having people across many teams contributing to mobile apps simultaneously.
We made the difficult decision to stop trying to play catch-up for the mobile apps and instead invest in new technologies that will make it simpler for our organisation to deliver our customers a great experience regardless of their device. In early 2017 we decided to effectively close down the fully native apps and instead pass customers through to the mobile responsive My OVO web browser experience to provide them with access to all the improvements we have made, and will continue to make, over the next 6-12 months.
We wanted to ensure our customers had the ability to serve their needs online wherever possible - albeit with a slightly less polished experience than the mobile app previously provided.
Feedback from our customers about this change was quite negative and we understood their frustrations. We changed our strategy to put better technologies in place and started to replace the most used features in the app with well-designed, fully native experiences again.
Our new app
We think we've found a way to build something great. Previously, we developed separate native apps for Android and iOS, OVO's app is made using a technology called React Native, which allows us to develop a fast and slick fully native app that we can release for both Android and iOS. As of version 5.1.0 of the OVO app, which we released in October 2017, the native OVO apps for Android and iOS have been React Native. Here are the release notes for the latest version, rolling out now.
==Version 6.1.0 key features==
Tabbed navigation
We've made a new way to navigate around the app that makes the features our customers most commonly use more accessible: Home, Meter readings, Usage and Payments. It also has the secondary benefit of speeding up the switch between those screens. We released this on iOS as a test in early February. We're now rolling it out to Android customers too.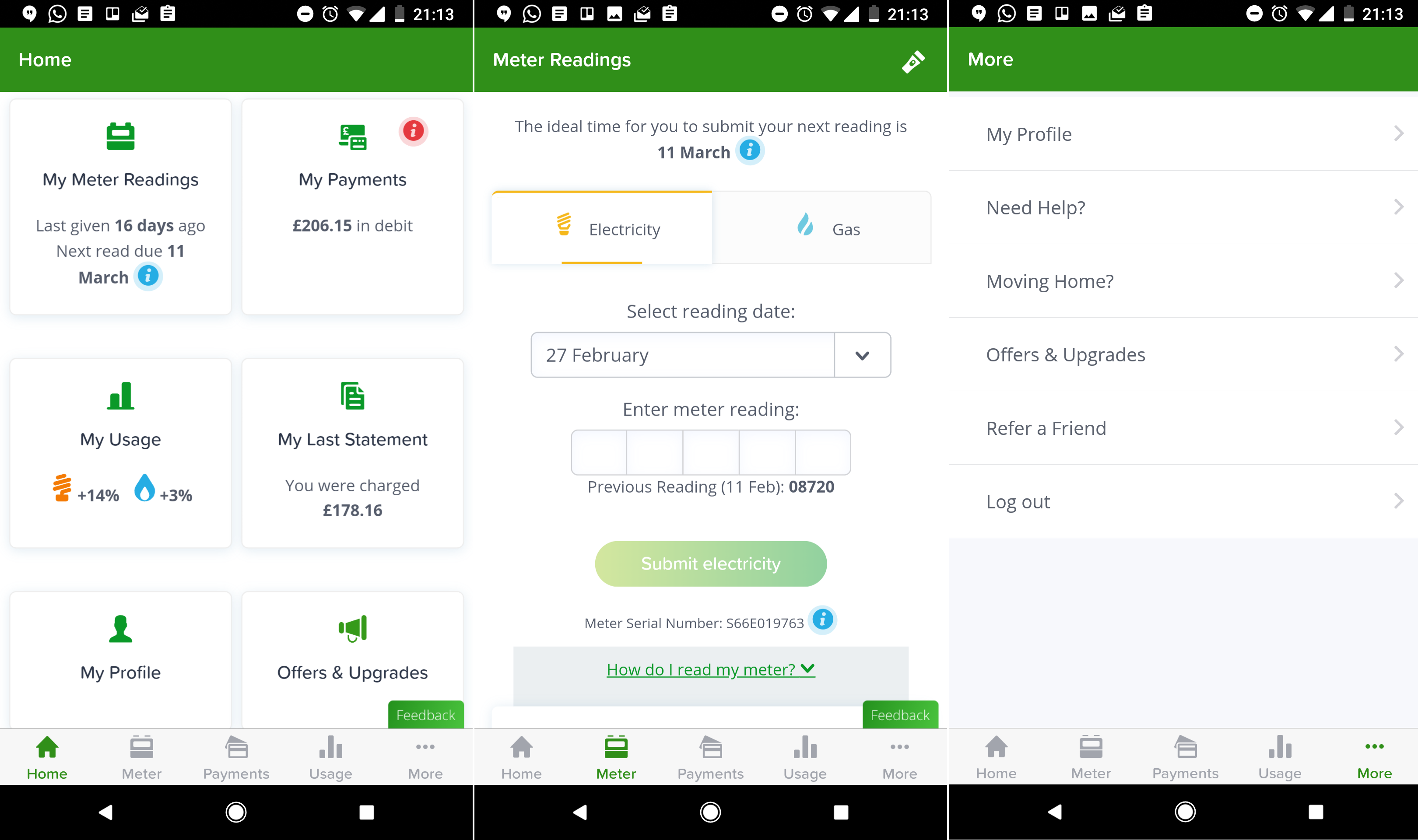 Native meter readings
We're rolling out a slicker way to submit meter readings, part of our quest to make the app more native. This is only available to customers with one gas and one electricity meter, and customers who have Economy 7 meters will continue to see the previous version of the meter reads page until we support Economy 7.
Bug fixes and performance improvements.
What would an app update be without bug fixes and performance improvements?
==What do you think?==
We'd love to hear your feedback about your app. Comment here and share your thoughts.