Interesting week, news wise (or should I say newswire...)
Did anyone else see the article we called out in our weekend reading from OVO newswire, on Elon Musk's unveil of his new Cybertruck?  Click on the link to check out @PeterR1947 and @Andras views on this!  It's a strong look isn't it!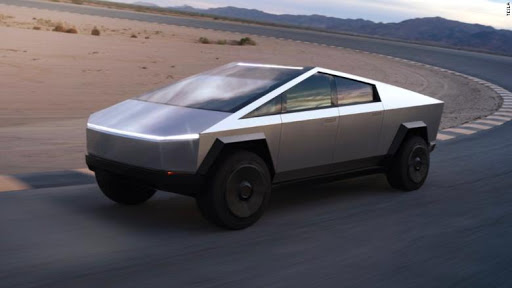 We also celebrated reaching 10,000 users on the OVO Forum last week.  Such a great milestone and a big thank you to all of you for helping us achieve this.  It's great to have you all on board supporting and getting involved! This topic spurred a random cake conversation.  Apparently @ITGeek123 has never had carrot cake! Madness!! @Leo Moran and @Transparent were quick to jump on this one….! 
Still waiting for the post to arrive with the lovely homemade cakes you've made us to help us celebrate...just saying… 
In other news…
Not much to report on the home front this week, other than panic has started to set in about the fact Christmas is actually not that far away!! 
 We're hosting, so really need to get our act together and work out what we need!  We are planning to make some changes this year. 

For example, we are not going to buy crackers that cannot be recycled, we are going to make our own with the kids from materials we know can be recycled.  The same with wrapping paper.  We are going to use alternatives that can be easily recycled.  Doing our bit to support the planet!  #WhatWeCanDo 
Thinking about Christmas got me thinking about content we have on the forum about the festive period.  I found this handy guide, related to your energy use, I wrote a year ago, that still has a lot of useful links on it.  Worth checking out.    I also love @Slinky  post from last year, sharing funny Christmas snaps!  I wonder if you guys have any new ones for this year! If so get sharing them! 
What's been going on across the forum? 

Again, another super busy week.  Our very own @Leo Moran created a great topic last week about driving an EV in winter and things to think about, which was so good we turned it into an article.  If you have an EV and are going into your first winter driving one, or have a different type of EV and want to share your experiences, check out the "Driving an EV in Winter" article. 
Over in the world of Vehicle to Grid, we announced on the forum that we are launching a new feature soon, based on your great feedback on the product so far!  Check out the new V2G Min/Max Charging feature that's coming soon.  
Can anyone help @oldcelt with their question, how do they reset the daily target on their IHD?  
Not visited the forum for a while? Why not check out what's been active since you last stopped by? 
And don't forget, if you are feeling in the mood to be super helpful, then check out the unanswered questions, and do a good deed!  Like this moving home question from @jamiewilliams13. 
Finally the usual shout out to some of our newest signups!  Big welcome to @Ellivad, @Francis, @Carly Smith, @addinghamfj and @Derbyshirelad! 
Have a great week all! 
Darran
Community Manager