Updated on 26/05/22 by Jess_OVO
Background

This year was my first year of owning a full electric vehicle, absolutely no backup of a polluting  combustion engine.
I took delivery just before COVID-19 hit, so had not really had the experience of any long range trips. I had done some homework though. I knew the stated range: 239 miles, and I too knew this was not going to be achieved as it was hot, the boot was absolutely rammed full following the traditional game of car boot jenga, and we had 5 passengers. As if this wasn't enough of a challenge, we were going from a part of the UK where chargers are many to a village in deep dark surrey, down roads which are lucky to call a shack a "services" and then onto the vast expanse of last century technology called North Devon.
Atop of all this, I had an additional challenge, and one that I honestly didn't realise that would become the hardest to overcome. The impact taking an EV on a family holiday has to planning and the emotional impact it can have on passengers. In order to explain this I need to give some context, I am an early adopter  part of the vehicle to grid trial OVO run, my house is full of new tech, I bought a mini-disc player back when they came out, this is who I am. I accept new technology comes with challenges.  My wife, however, is the believer in "if it isn't broke why fix it" and "Let other people try stuff instead" in addition her attitude was very much "Your choice of car shouldn't be affecting our holiday so you better make sure it doesn't." Yes, squaring this in Devon was indeed tricky. As a note, I love my wife very much but possibly love technology a bit more, I had to find a way to succeed.
The Journey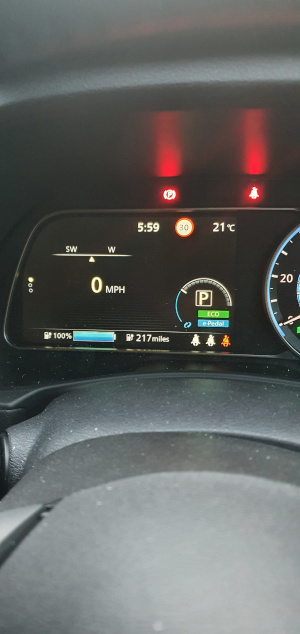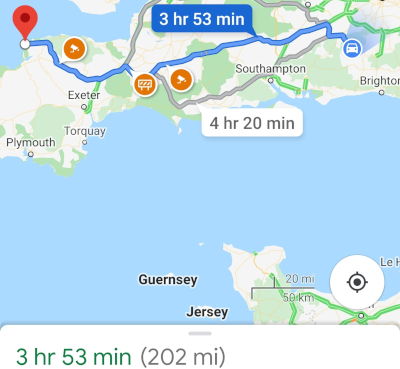 The journey from my home in a surrey village to Woolacombe,  North Devon is a long one, 202 miles and on a road likely with lots of slow traffic passing Stonehenge. The only Ecotricity stations on route were on the short M5 stretch, and on the A303, Amesbury and Weyhill were options, but probably too close to my start of journey to be really useful. I figured with a totally full charge (which I had), making the 1st M5 station would be a breeze.
Sadly, I had totally miscalculated the energy consumption impact a full car with air-con and delays past the stones could have. This rapidly became my first genuine experience of range anxiety.  As the estimated miles slipped lower and lower i glided into the 1st M5 services only to see a Mitsubishi PHEV pulling out of the space. Thinking my timing was perfect,  I gleefully pulled in, popped the filling lid and strode with confidence to the charger, app in hand. This is where my face changed to dread, realising the Mitsubishi was in fact leaving as the station was out of use. I had to think quick, and find a solution before I could sheepishly walk back to the car to tell my wife. My hope was that the Tiverton M5 services, which I could just perhaps reach without aircon may save me. 
As we rolled into the services I learned a few more things. One is how hard finding the EV points actually are and secondly, how busy they get! It was already in use by a ZOE, and was to be in use for a worrying 15 minutes before I could join my family in a well known fast food chain as I couldn't risk someone jumping in front of me. Thankfully,  I could see it working so knew I was saved, for now. Little did I expect this was the 1st occurrence of the argument that if I had petrol this would never have been an issue.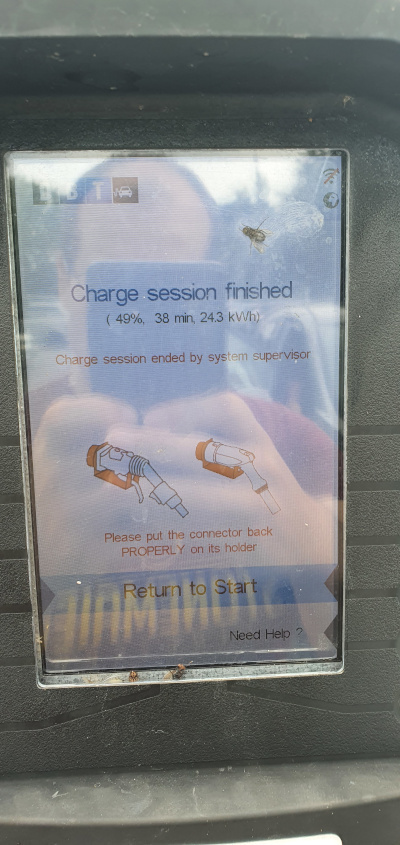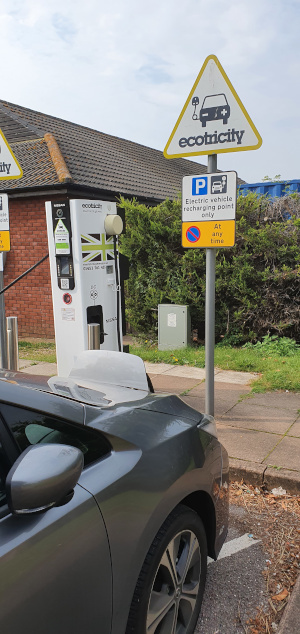 Continuing onward to our destination was a relatively simple affair, stopping for lunch at a nearby town before pottering down to the check in at the holiday park accommodation. Arriving here, it was clear there was going to be no opportunity for 13 Amp charging, so I would indeed need to find a working rapid charger, and not be gone too long and missed by wife. The alternative is I could make it part of a journey and figure how to make charging stations interesting…
At the evening meal we went out to eat then I tried my luck, suggesting we explored the town where the charger was (there really are not many in North Devon, certainly round Woolacombe!) We arrived and parked up at the charger,  seconds before an EV Audi rocked up and looked really upset someone was using the charger (he got out and helped me get it working as if he uses this at the same time every day) it was a Chargepoint Instavolt charger and using it with my contactless bank card was quite a challenge.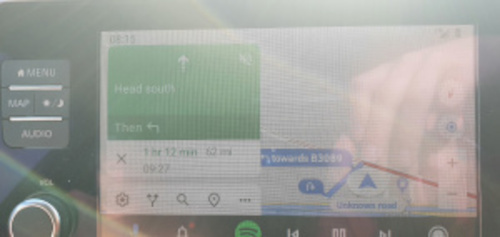 Sadly, my gamble was only partially successful,  the local town highlight was a co-op where we bought supplies and I managed about 30 mins charge before I was urged to return to accommodation and sort it out later, on my own, without affecting the holiday. I realised after a quick check on the app it opened at 05:30 and was 20 mins from accommodation,  meaning if i wanted to fill up and be back before they wake, that means a 5am wake-up.


The Actual Holidaying
So.. a 5am wake-up heading 30 mins down the road for a 05:30 charger opening as per the stated opening times was my 1st solo trip as the rest of the family were fast asleep. Instavolt (Chargepoint) Braunton was again my destination. With great 4G signal I plugged in, put my headphones on and watched an hour of Netflix. Charging is somehow peaceful, relaxing and enjoyable while the world sleeps. No fighting for chargers, but the scenery was nothing to write home about, it is like sitting in a garage, but thankfully with a nice roof in case of rain.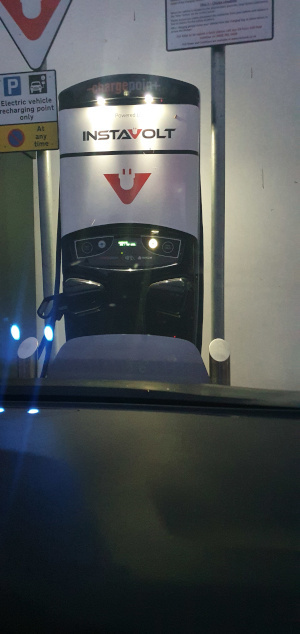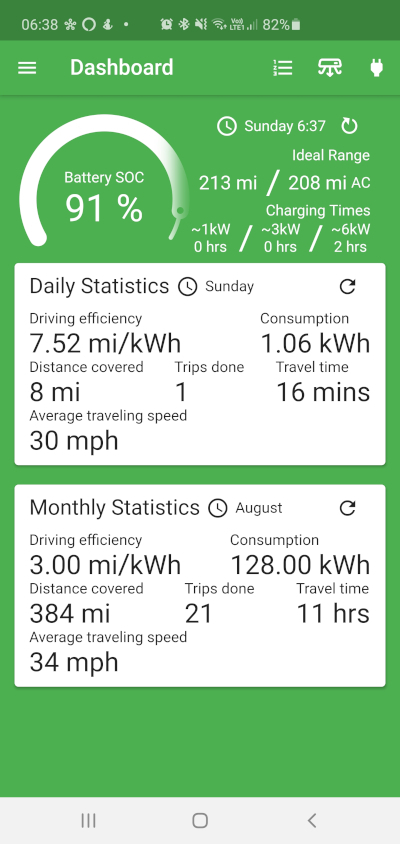 Driving around the local area for the day I had no issues with charge sitting nearly on a full tank in no time at all. The rest of the holiday was relaxing and fun, and comfortable, every other day I would have a 5AM wake up, but it kept the peace with the family, we would have a charged car, and I found the amazing Polar charger (pictured below) which is massively cheaper (thanks to my EV Everywhere Tariff!) and has a MUCH prettier view when charging.
Also good 4G for Netflix. I strangely found the solitude and watching the morning arrive the most enjoyable part of the holiday, total relaxation, peace, quiet, just what I needed. It must be noted at times the Instavolt had a 4 hour queue of people waiting at around midday, yet the Polar station, merely 4 mins down the road, and slightly off track was totally free and saved me a number of times for top-ups.


Technical images of the various charges are below to show rates and mileage covered between charges etc.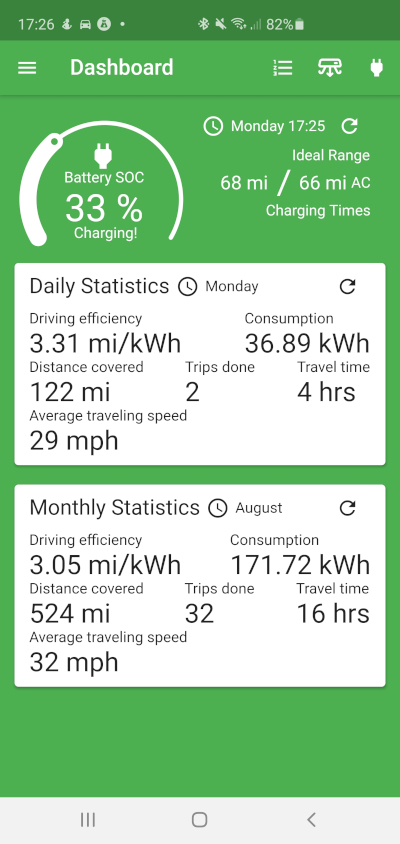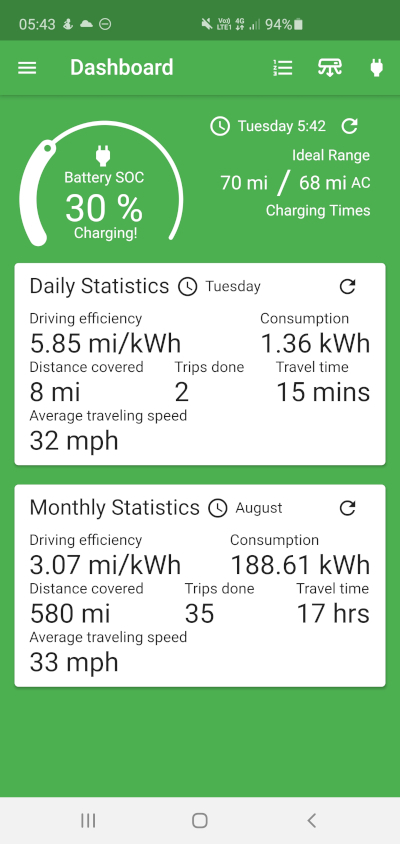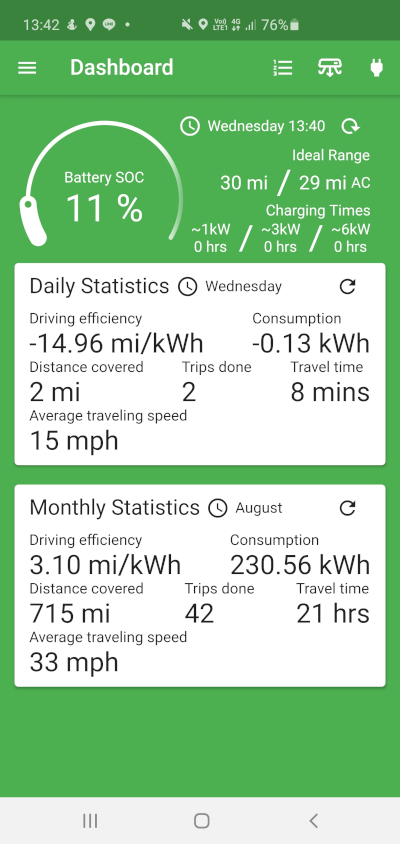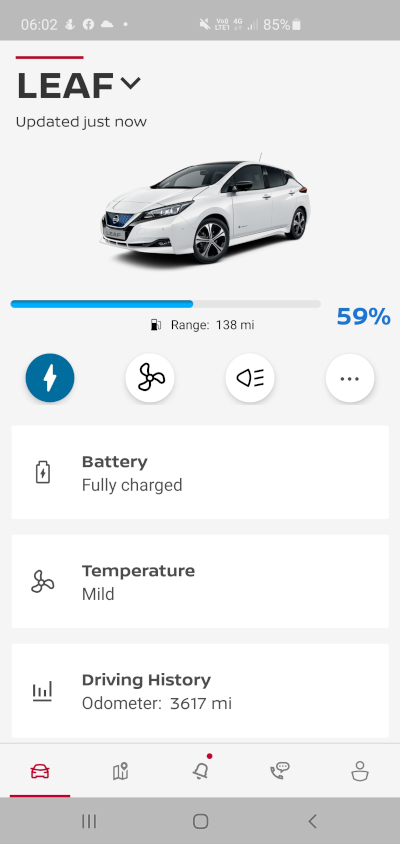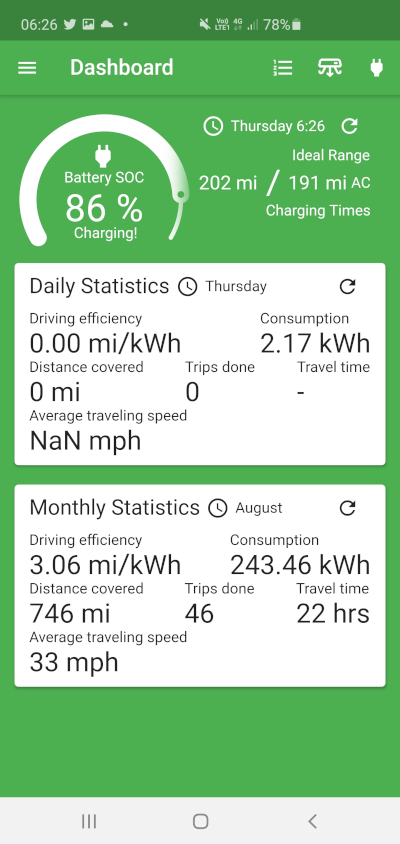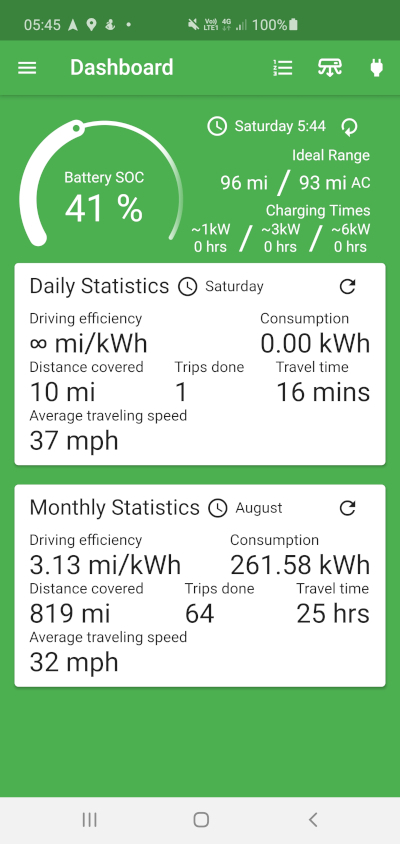 We also happened on our trip to visit an energy related museum about hydroelectric power (it also was beautiful so met the rest of the family's requirements) so I have a few pictures for that here too.


The Trip Home

This was going to have to be a well planned trip, traffic and weather was awful, I had a 5am start (for my totally full charge) and had booked the Harvester at Amesbury as they have a Polar charger (apparently) which I had been monitoring for the week and sadly usage was typically peaking around lunchtime (our anticipated arrival), and I knew this would cause stress and frustration, I had also been monitoring the other Polar point, merely 300 yards away in the hotel car park and nobody used it for days yet was working.
As it happened, after a long and stressful drive due to accidents and diversions and pouring rain, the Harvester charger was free, and, as like all Polar chargers I have ever used, just worked a dream. A simple tap of the card, plug in and off we shoot to a relaxing lunch, followed by a peaceful drive home.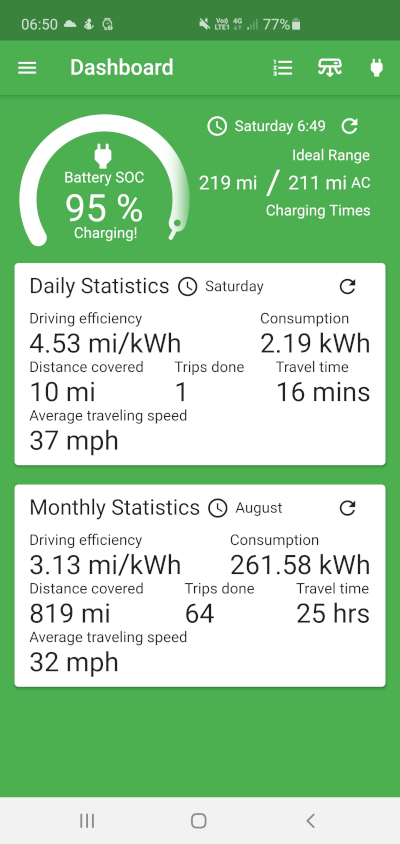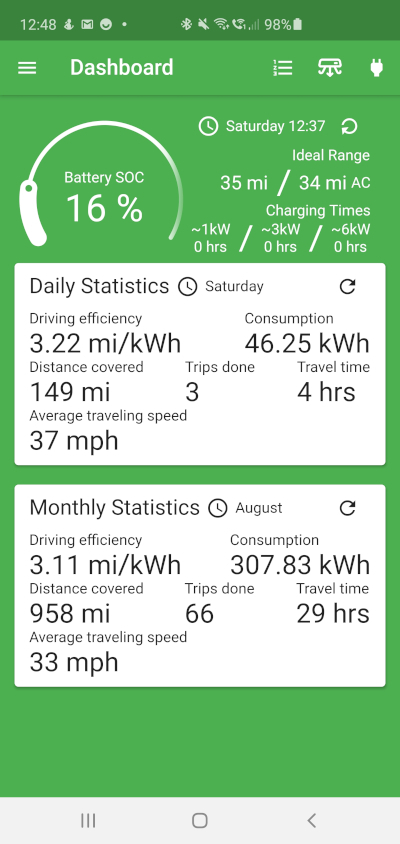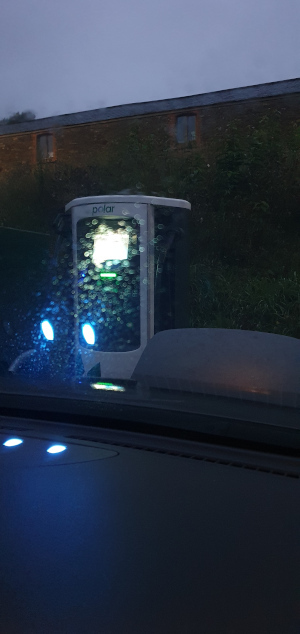 In summary.. Would I do it again, absolutely, would I make sure I realise there are early mornings involved, yes. Would I top up at Amesbury on the way to avoid stress on the M5 and Ecotricity issues, yes, I would to that too. 
A massive amount of hours were spent in the car getting to, around and From Devon, but it is simply beautiful, and in the early mornings in a pure EV, nothing is more peaceful and relaxing.

I hope this can inspire you to take the following lessons:

1) Plan plan plan, get all the apps, monitor usage and outages
2) Expect early mornings, but, appreciate them
3) Save the planet from pollution
4) Sit back and enjoy the savings
I thank you for reading this massive post. I hope you found it informative.
The images from my trip to the HEP museum at Lynton and Lynmouth: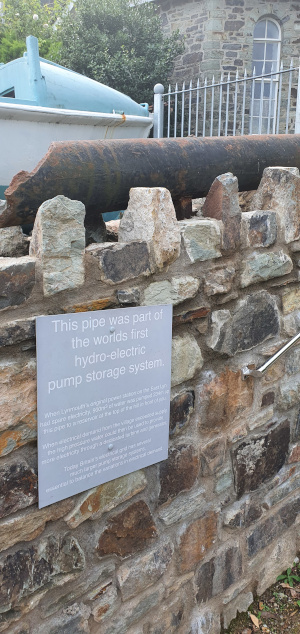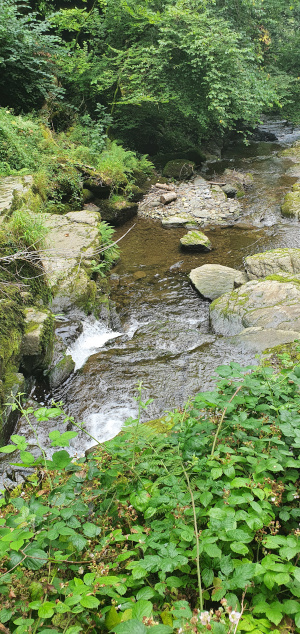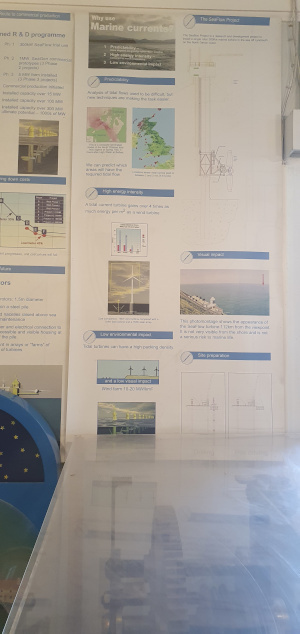 As well as this great rundown of holidaying with an Electric Vehicle (EV), we've got some great info for prospective EV Owners here on the OVO online community.

Why not check out the reviews our members have written about their EV wheels:
 

Or their top tips on what to consider before making an EV purchase: