Part 1: Heating Strategies
Whilst the majority of UK homes use water-filled radiators to provide heat, there are a number of alternatives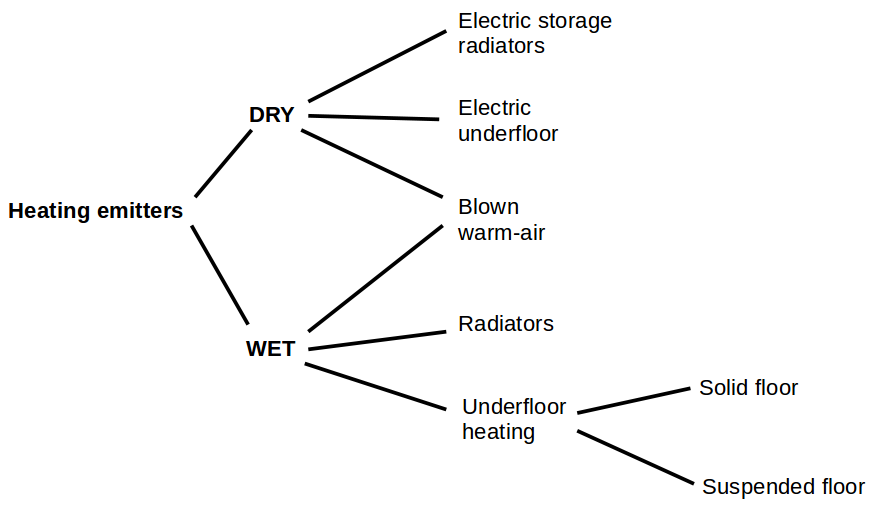 Each type of heat-emitter has its pros and cons. In these times of greater awareness of Climate Change it's becoming increasingly important to assess which heat source would be more suitable.
Should we continue to regard the heat emitters as an integral part of the house structure, or can we make changes to better suit our needs?
If we're converting the attic or adding a sun-room extension, can we choose a better/different heat system to that in the existing house?
This Topic considers the alternatives and provides the practical background information to help readers make more informed choices.
As with most things in life, there are trade-offs to be considered: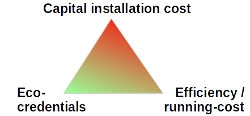 Installing domestic heating is costly. About one-half of the expense is taken up with labour… of which the majority doesn't need a qualification or very high skill-level!
The obvious solution is do as much as possible of the work yourself, particularly drilling through walls, lifting floorboards and running pipe. The savings are sufficiently large that you'll be able to spend more on high-quality hardware and fittings. The result will be greater efficiency and hence lower running-costs.
Comparisons
Leaving aside construction for a moment, let's compare the characteristics of a radiator heating system against the two types of wet underfloor heating:
| | | | |
| --- | --- | --- | --- |
|   | Radiator | UFH, Solid floor | UFH, Suspended floor |
| Heating method | convection | radiation | radiation |
| Heated area | small | large | large |
| Thermal mass | low | high | low |
| Response time | fast | slow | fast |
A graph of the two types of UFH floor construction shows how the high thermal mass of the solid concrete floor can take several hours to reach a surface temperature of 22ºC from a typical night-time temperature of 14ºC.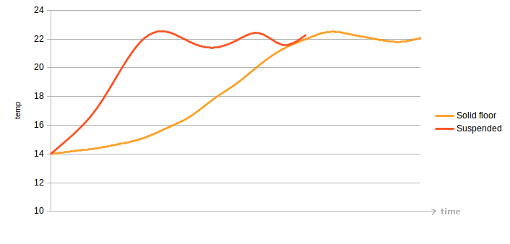 A Solid Floor UFH system operates as a heat-store, holding energy and then releasing it over a long period of time. It is better suited to a solar-input, where heat is stored in the floor during the day, and then used to warm the house during the cooler evening.
It's worth a moment to compare and contrast a traditional radiator system and UFH within a suspended floor. At first glance they are very similar, differing mainly in the size of the radiating surface.
However, in order to keep a room warm using a radiator, the flow temperature of the water is set much higher ~ usually 70-75ºC. This in turn means that the temperature in the return pipe is also higher, typically operating with a 10ºC drop across the heating surface: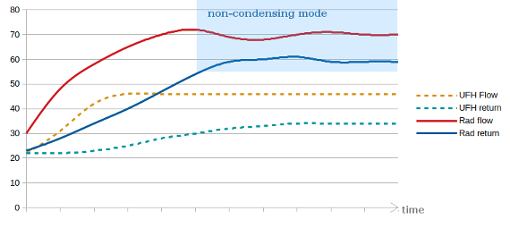 And now the inefficiency of using radiators becomes apparent. Very soon the return temperature reaches 55ºC and a typical gas boiler no longer operates in condensing mode. Its efficiency drops from 95% (SEDBUK A-rated) to around 75%. That's the equivalent of a 25kWh boiler throwing 6¼kWh straight out of the flue!
We can't be serious in combating Climate Change whilst we continue to build new houses with gas boilers supplying radiators.
So what are the options?
What's actually involved with the installation of a wet under-floor heating (UFH) system?
Part 2: Wet UFH: components
Part 3: Installing Wet UFH in solid and suspended floors
Part 4: Wet UFH, Installation and Commissioning
Part 5: Wet UFH, Connecting Controls
to follow
   - Fitting the floor surface
   - Electric UFH