When are you going to offer a smart tariff with 30 minute pricing to integrate with ev charge solutions?
Best answer by Transparent 2 April 2019, 12:39
Hi
@Timbob1961
I think we all wish we knew the answer to that!
For the sake of others who come across this Topic, may I just explain your question using the standard terminology?
The strategy being pursued by HM Government (Dept of Energy and Climate Change) from 2013 onwards is to move us to a domestic electricity purchase scheme called
Demand Side Response
. The necessary legislation has been enacted through Parliament and the regulatory structure put in place by
Ofgem
, the industry regulator. You can read about this flexible tariff approach
here on Ofgem's website
.
Commercial electricity purchase by
UK Energy Suppliers
(like
OVO
) already happens in half-hour chunks. This is a skilled job, made more difficult by the fact that 50% of us customers buy our electricity on annual contracts... most of those having fixed price guarantees. If the wholesale costs rise unexpectedly,
Energy Suppliers
can find themselves running at a loss.
Moving customers to a variable half-hour tariff has major advantages. It can not only reduce the trading risks for the
Suppliers
, but also reduce the demand-peaks which mean we have to retain power stations on stand-by. Dealing with these factors will reduce costs overall and enable the country to better live within its energy budget and meet our obligations for CO2 emissions.
Domestic electricity requirements peak in early evening, bringing the country's Transmission Grid close to maximum capacity: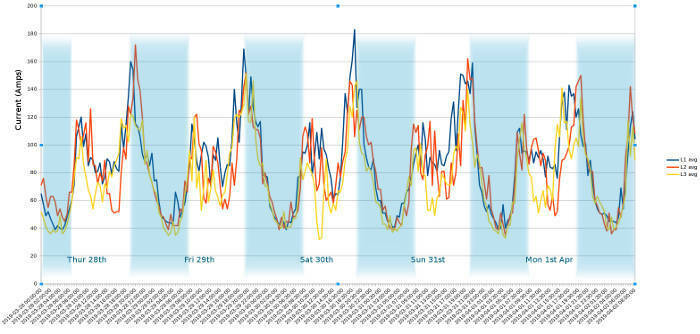 The graph above shows the current loading over the past 5 days on a sub-station transformer sited at a housing estate near me. The early evening peaks are clearly visible. The lower readings on
Phase L3
are due to local solar generation, which connected to that phase to a greater extent than the other two.
Demand Side Response
is too often referred to as a
Time-Of-Use
tariff (TOU). This isn't necessarily true. Economy-7 is actually an example of TOU in that it gives consumers a lower rate between midnight and 7am.
SMETS1
and
SMETS2 Smart Meters
have several possible
TOU
tariff slots inbuilt within the software. My new
SMETS2
electricity meter has three which can be programmed remotely by
OVO
to different times of day. But that's not the same as the half-hour
DSR
which DECC and
Ofgem
are moving us towards.
Charging
EV
s overnight on Economy-7 tariff avoids the early-evening peak, but still requires that electricity to travel across the Transmission Grid.
Looking at the above graph, it would have made sense to have also offered a cheaper rate to charge
EV
s in the middle of the day over the weekend. This would've utilised local solar generation which had never needed to pass along the National Transmission Grid in the first place.
However, the main financial beneficiary of reducing the grid loading would be Western Power Distribution, the
DNO
who operate the Grid in which the above sub-station lies. The
Domestic
price regime they currently operate has a
fixed
-rate per kWh which
OVO
must pay them regardless of the time or extent of use of the Grid.
This obviously needs to change. Until
DNO
s are also required to implement variable pricing, the room for
OVO
to alter consumer tariff structures is limited.
That's why
Ofgem
are currently open for consultation on RIIO-ED2, which is the profits-constraint mechanism to be applied to Electricity Distribution Phase2 (ED2).
If you want to check the current Network Charges, have a look at
this page on Western Power's website
, and
this spreadsheet
for the South West area (dated 01apr19) in particular.
Let me stop at that point, and give
@Timbob1961
an opportunity to respond. It would also help if you could complete your Forum Profile page, because then I could provide answers relevant to
your
geographical area rather than where I live! Thanks.
I'm hopeful that we might hear too from
@Hari_OVO
and
@Cassie_OVO
- both of whom have previously posted on the Forum about
TOU
Tariffs. See what Hari wrote
here
about
EV
charging price variations a couple of months back.
View original