Hi 
My ½ hourly reading seem to be a few hours out on most occasions. We both work shifts and on certain days it shows us using energy when we have been at work for a couple of hours or more. 
I'm wondering if they are just upping the charges because of covid and they think people will just pay it. We have been working all the way through covid so no change of usage.
TIA
Best answer by Transparent 4 October 2020, 18:11
Thanks for posting here on the Forum, @Teampr88 
Firstly, there's currently no link between the half-hour (HH) reading which we see on the Online Accounts Usage-page and the readings used to generate our bills. Everything we see for HH-usage at the moment should be regarded as experimental.
Secondly, all Smart Meters have a randomisation applied to the half-hourly periods. If this were not so, and customers moved to Time Of Use tariffs, then we'd cause massive surges on the electricity grid when our preferences automatically started devices operating.
I haven't yet found out what the extent of those offsets might be, but let's imagine they could be +/-10mins from the exact half-hour.
So please ignore any usage differences you see within that time-frame.
Thirdly, I'm already aware that OVO's new Billing System is applying some Usage-corrections retrospectively. This happens when some readings have failed to arrive and the software attempts to re-synchronise the HH-graph with what we're being billed for the previous day.
So, by way of example, here's my gas-usage for 6th September: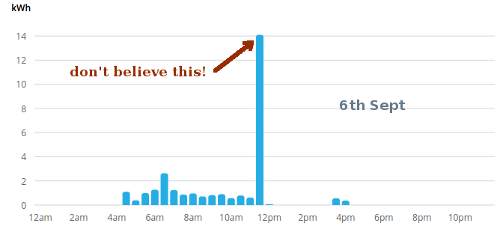 Not only does this pattern not match other days, but I have a solar hot-water panel which heats my thermal store in the middle of the day. It would take a snow-fall at 11:30 to have covered my vacuum tubes sufficiently to produce this result!
Now… if you can try to ignore the three characteristics which I've just described, can you tell us if you are seeing other anomolies which couldn't be accounted for by my explanations?
View original