I have 3 x flats that have just the one meter supplied by Ovo.
I want to split into 3 x meters by Ovo. I want to avoid using power networks and getting in a 3 phase supply as they are suggesting
can this be done?
the supply is already going to all 3 so its about metering although i don't want private meters, I would like 2 separate accounts for the tenants to pay themselves.
Best answer by Transparent 13 November 2020, 20:45
Updated on 17/11/20: this comment has combined several answers to make one best answer:

 
Power Networks sound like your DNO. A 3 phase shared cut out may be needed. If it is, Power Networks will need to visit, install the 3-phase cut out, and then you will need to get a supplier able to create new supplies to visit on the same day, to install the meter.
OVO still can't do this. Our job list is here. Once the supply is created and the meters are in, you would then be able to switch the supplies here. 
OR
Power networks can visit to install 2 new supplies, each with their own single phase cut out, and their own meter. 
Once again, in this scenario you will then need to get a supplier able to create new supplies to visit on the same day, to install the meters
See the info below on what needs to be set up other then a main cut out and a meter. 
Even if SSE (now owned by OVO) have the certification to undertake new meter installs, it remains the case that each meter must be connected to a Service Fuse in one direction and a Consumer Unit in the other.
A Consumer Unit is not itself an expensive item, especially if purchased as a package with all the trips pre-installed: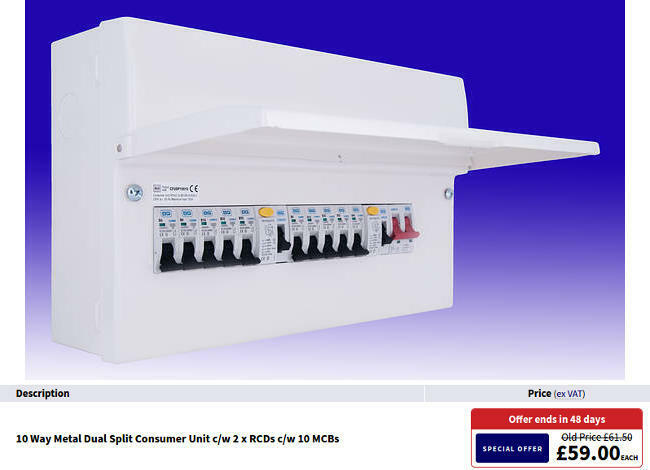 As yet @calli hasn't said how the existing arrangement of flats is served by any existing Consumer Unit.
Unless there is a separate Consumer Unit for each flat, with the certification from a qualified electrician, then I can't see how any Installer would be prepared to put in a meter. It would be in breach of SMICoP regulations. This Smart Meter Installation Code of Practice is the agreement by which engineers working for Energy Suppliers are licensed to break the seals on the Service Fuse without the attendance of the Distribution Network Operator and a qualified electrician on site.
As you would expect, the SMICoP regulations are primarily about safety. This doesn't just mean the safety of the meter installation itself either. The Government (through Ofgem) are using the Smart Meter installations as an essential opportunity to verify that the gas and electricity supplies to each dwelling are up to the basic requirements.
No Installer could risk connecting a new meter to a Consumer Unit if there was a chance that the wiring somewhere in a flat might not be fed entirely from that Unit.
If they were to do so, then a later intervention by the DNO to run 3-phase into the building would leave the occupants with the risk of there being 440v within a room.
Now I still do have ideas as to how to save money in having this work done. But I cannot foresee any way that the issue can be resolved without the regulations being fully and correctly implemented. The rules are not onerous - they are actually just common sense, and successfully keep us alive!
View original