(Apologies for putting this post here, I'm not sure quite where else this would go in these forums nowadays?)
I'm posting about an issue with forum user-interface which I think is rather counter-intuitive and could do with updating.  Specifically, this page, for creating a new topic post-
https://forum.ovoenergy.com/topic/new
Noting this from that page-

I just spent an hour typing out a long and detailed post for the Smart Meters forum, complete with tidy formatting and images to make for easy reading and a useful future reference.
Then I clicked this-
Unfortunately, it appears that the button at the bottom of the screen marked "Post your question" doesn't actually "post your question"; instead, it just takes you back to the webpage you were on, to create a new post, sans all the lovely detailed information you just typed in, with no posibility of recovering it (back button didn't help - Windows 10 + Google Chrome.)
It didn't just catch me once: I tried creating a new post at least three or four times (remembering to copy all the text first - just in case) before I realised what was going on!
Due to its placement, directly under the section for adding tags, I though the small "Create" button was for creating a new tag; however, I now gather this is the button we should use to post our question-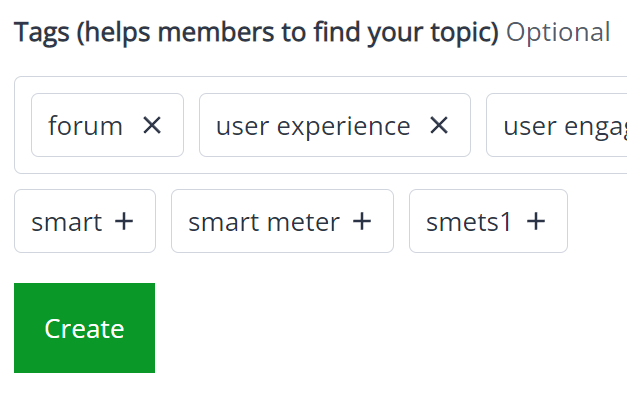 How completely unintuitive and confusing is this?!
I'm previously frequent flyer here in the forums with 40 years of technical and computer experience; if I've been caught out by this issue, I wonder how many other people have been?!
Could one of the OVO reps please feed this UI concern back to the relevant section?
EDIT:  In order to successfully reproduce this, zoom in on your browser (I saw it on Windows 10 Google Chrome at 150% Zoom on a 1080p screen) or reduce the browser window width until it forces a change in the responsive layout and panel on the right disappears.  Then the layout should look something like this-