Installation has just (Friday 13/11/20) been completed on my roof in Stockport of 28 solar panels and a PV Grid Tie single phase inverter charging 4 x 3.5kWh Li-ion batteries via a 3kW AC Coupled inverter. The included phone app shows that I am now drawing very little grid power and the batteries are fully charging even on fairly dull days, and are still fairly "full' next morning. However, my daily meter readings are little changed from pre-solar times which means that my electricity bills will not decrease. I am not particularly concerned with selling power back to the grid as I understand that this is poorly rewarded at this time, but I am worried that the electricity which the sun is now freely providing directly for my consumption will still be charged for as if it were coming from the grid. I was expecting my meter to more or less stand still, or even "run backwards" but that isn't happening. Is there a way to fix this please?
Best answer by Transparent 18 November 2020, 20:52
I spent some time today meeting a professional battery installer and qualified electrician. We had a moment to look at the photos which @dnshorto has provided and I gleaned some useful information.
So what follows is with grateful thanks to Marcus of GMEC ELECTRICAL in Barnstaple:
1: He commented that the current clamps can be affected by the electro-magnetic field from adjacent cables. Your installer decided to move the clamp higher on the live-tail to Position A in this photo: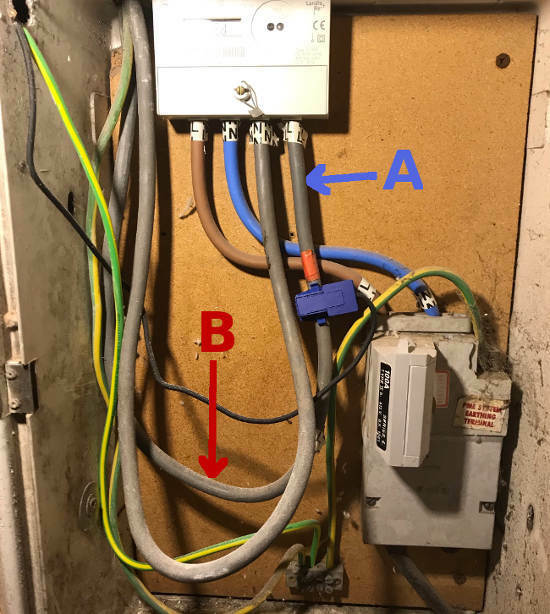 However, this is still in close proximity to the Neutral-Tail, immediately to the left.
Marcus says he tries to find a location where the distance between the two conductors is greater. I've marked B as a possible position.
This would enable the Live-Tail to be reinstalled with the outer plastic casing intact.
2: Marcus has previously installed the same Pylontech US3000 Storage Batteries as you have.
However he has never considered attempting to place them in the orientation shown in your photo above, nor so close together.
I have therefore downloaded the Pylontech Installation Manual from here, and checked to see what it advises. Read the two points which I've highlighted: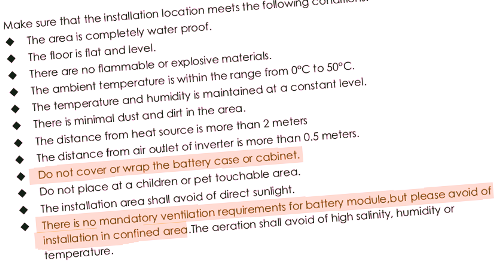 As originally supplied, these US3000 Batteries have mounting brackets to be fitted horizontally within a 19-inch rack. The positioning of the M6 bolt holes ensures that they are held apart by about 30mm.
If they are to be stacked without a 19-inch rack cabinet, then there are feet/brackets which should be fitted in place of the M6 bolt brackets: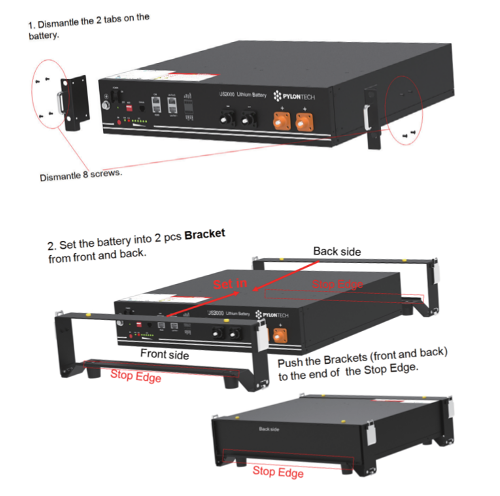 These feet/brackets allow up to four batteries to be stacked horizontally, but only two vertically: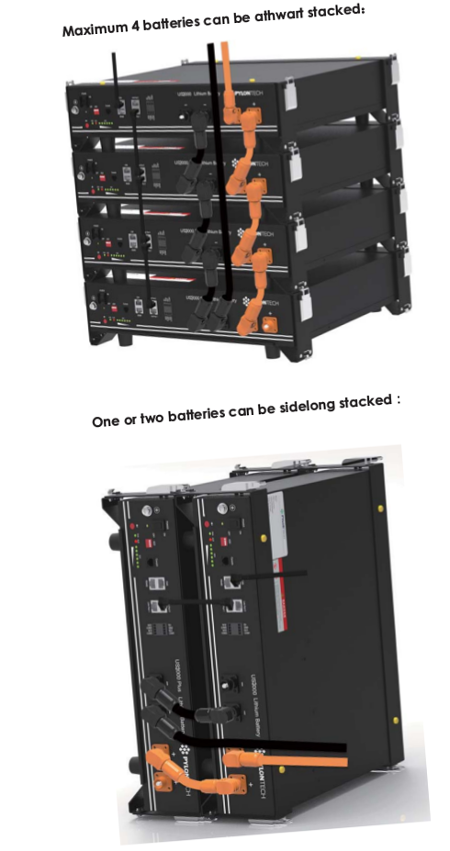 The reason for these spacers becomes obvious when you read the fault-finding guide at the back of the Manual. It states that the batteries will cease to charge/discharge if the enclosure temperature rises above 50°C.
Given that you have 28 PV panels producing a possible 9.5kW of power, it doesn't take much to see that this is capable of rapidly charging just 14kWh of storage. And it's that high current which will cause the temperature to rise.
It's possible that your Installer has allowed for this and compensated by reducing the maximum charge current being sent from the Growatt Inverter. But that seems to defeat the object of having had so many panels installed in the first place.
Let me finish this particular post by pointing out that it is still early days for installation of domestic battery storage, but there are already in excess of 100 models available in the UK. It simply isn't possible for every supplier to know how to specify and install all possible combinations.
Everyone is still on a very steep learning curve, and I don't think that your Supplier should be blamed for failing to get this site optimal. The arrangement is still inherently safe, and will simply shut-down the batteries if the charge current is too high.
It's much more important that we can share these sorts of details with Installers in the expectation that the pooling of such knowledge will help to ensure better optimised installations in the future.
So what I've just written above isn't enough to warrant an irate complaint!
I hope that's ok?
View original