They're not the easiest meters to read and if you've still got one, I'd recommend getting a smart meter installed. This can be done here.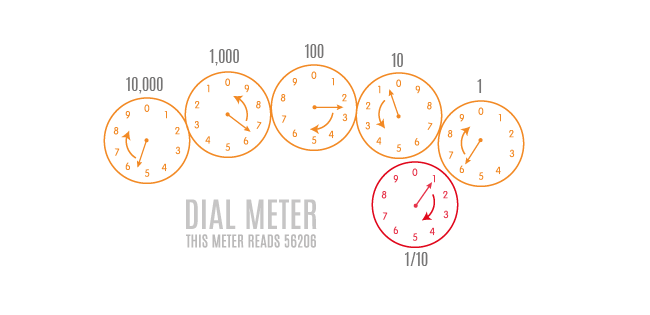 How to read this:
Write down the reading for the highest-numbered dial first (in this example the dial is 10,000 and the reading is '5')

Then write down the readings you see from left to right, including any zeros (ignore any red dials).
So this one reads:
10,000 - 5
1,000 - 6
100 - 2
10 - 0
1 - 6
Write down the number that the pointer's just passed (even if the pointer is nearest to the next number). If the pointer sits between 5 and 6, you should write down 5 – even if it's closer to 6.

If the pointer on one dial is sat over the 5, but the pointer on the nextdoor dial (to the right) is between 9 and 0, you should write 4 for that left hand dial.
Once you've worked out the reading, you can submit your meter readings via the action centre of your online account 
If you get stuck, send us a photo of the reading. We're on Facebook, Twitter and our Help centre has online chat!