I am a pensioner so work pattern not affected by Covid-19 however my usage this year is higher than previous years so I have been checking my Monitor readings at different times and find that when I cross check the readings I have taken with the readings recorded on my ovo account the ovo ones always appear to circa 10-11% higher yet the final days readings concur. Any ideas as OVO just told me to believe the final reading for the day as they would. I am worried they add a daily surcharge on the usage. Any suggestions would be appreciated.
Best answer by Transparent 21 September 2020, 10:29
Oh… I'd hoped you were going to confirm first whether I'd actually correctly understood what you're reporting here, @Ted1941 …
OK. Let me offer an explanation of what I think is happening within the Usage Graphs we see in our Online Accounts.
The new Billing System is operating solely on the difference between the meter readings taken at midnight on successive dates. This is displayed on the monthly histograms we see.
The 48 half-hour (HH) figures are retrieved from the relevant memory locations in our Communications Hubs and used to generate the line-graphs we can see. But these graphs are drawn from raw data and not correlated against the daily total. Thus you will sometimes see HH graphs that are technically impossible: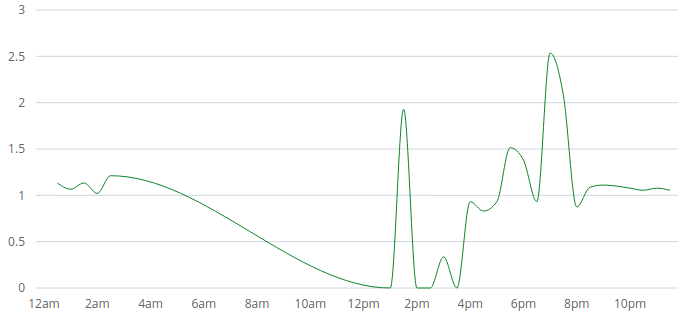 Since OVO's contracts do not yet include a Time Of Use tariff, the HH data, and graphs derived from it, fall outside the scope of Ofgem's remit to audit accuracy. After all, no billing is derived from those figures.
I haven't ever seen OVO staff claim that these HH figures are accurate.
View original