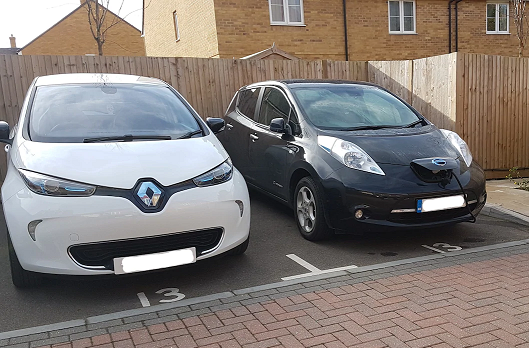 *HOT OFF THE PRESS*
Check out this
article
to see our very own
@ITGeek123
in action, talking about his EV cost of ownership and how he's making a difference.
If you don't have access to view the whole article, please read Matt's contribution, below
Electric cars
Domestic spending on green transport increased 385pc in the past decade, according to the Ethical Consumer report, jumping to £305 from £63 per household, as hybrid or
purely electric vehicles
have increased in popularity. Alternative fuel vehicle sales increased by nearly 30pc last year.
Matt Hill, 26, a technical consultant, and partner Alexandra, 24, a veterinary nurse, who live together in Kent, both have
electric cars they charge at home
with Ovo Energy, which also powers their property on a green tariff. The couple switched two years ago for environmental reasons and find they are also making considerable savings on fuel.
"Before moving to electric, my monthly fuel cost was averaging £150 while Alexandra's was about £50. To fully charge both cars now it costs a total of £3 a week," Mr Hill said.
"My current tariff, EV Everywhere, offers me a two-year fixed price of £87 per month, and two years free polar plus membership meaning I can charge both cars using the thousands of charging points located nationwide. We're always in credit. "Our annual electricity bills are still under £1,000, only slightly more than it was before we got the cars."
The couple's Renault Zoe cost £5,500. Mr Hill paid £9,000 for his Nissan Leaf, "which is my average spend when looking for a new car". He said the switch was painless, except for some research. "We picked Ovo because it is the first energy supplier to provide V2G (vehicle to grid) charge points. My current car doesn't offer this feature, but I'll make sure my next car does."
He said having a charging point installed at home was simple. "If it had been an issue, in London where I work charging points are being installed within street lights and plenty are being set up nationwide including at petrol stations. "By the end of 2019 I think we will see a lot more electric vehicles on the road."
Drivers looking for greener options should be aware of a recent change to the road tax rules.
The couple's cars are
pure electric
, but owners of hybrid vehicles, which run on a mix of electric and petrol power, have been hit by tighter taxation introduced in April 2017. Previously exempt from road tax, cars with CO2 emissions under 100g/km receive no tax benefits after the first year, leaving buyers of fuel efficient cars £140 worse off after the first year of registration. Owners of purely electric cars, those with zero emissions, pay no road tax.
Credit: laura.miller@telegraph.co.uk