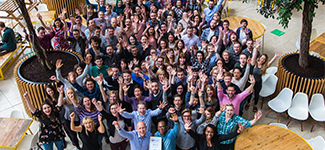 We are all very excited to be welcoming eight very special forum guests to OVO Head Office in Bristol next Monday! We are building the excitement internally and are looking forward to getting to know what makes them tick!
We want to spend time with our users, get direct feedback from them, give them some of the scoop on the latest projects at OVO to share with everyone else on the online community. That's why we've set up this exclusive event.
We hope this will become a regular thing, so we can allow more of you to come and visit us and get engaged with OVO and what we are trying to achieve long term. The energy industry is complex, so the more we learn about how this impacts our customers, the better we will get at realising our vision for the future.
The day will kick off with a tour of our main office, including a trip to the Treehouse (which has a slide) and the ski-lodge style 'Basecamp' meeting room.
Our Forum VIPs will then get to spend some time with various project leaders in Smart, EVs, User Experience and of course have some fun with the Forum Moderator team (there may even be cake…….)
Give it up for our Forum VIPs:
@Transparent
@Leo Moran
@aaronr
@PeterR1947
@tony1tf
@UC Bear
@NoPoke
@Fred Rick