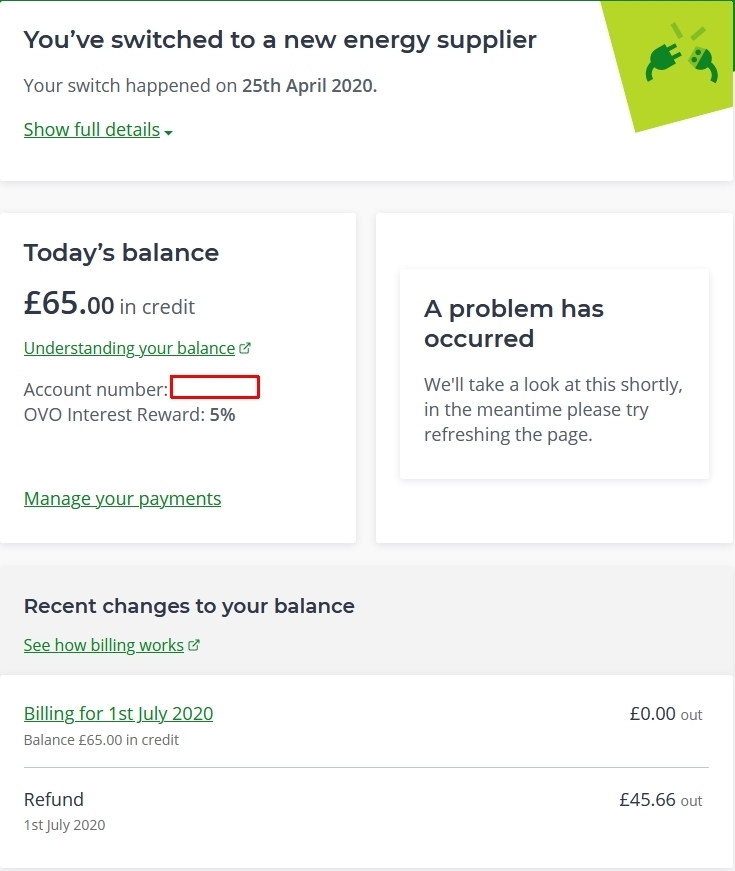 Please see the image above. I had a credit of £110.66 after leaving OVO on 25 April 2020. They did not refund it. I contacted them and they agreed to make a part refund of £45.99, pending (or so they claimed) a final settlement of the readings with my new supplier. You can see above my remaining credit of £65, as it is today, 13 August.
What can OVO still be settling after three and a half months of the switch-over? My new supplier tells me there is nothing to be settled with OVO.  I have repeatedly e-mailed OVO, last on 4th August, to get this £65 refunded. I get no reply from them.
My next step can only be to lodge a claim in a small claims court.
Best answer by Ed_OVO 13 August 2020, 19:12
Hey @Zahid,
I'm really sorry to hear you haven't had a response to your emails, we should be back in touch within 5 working days.
It sounds like there is a delay in getting your final bill generated. As we have to deal with your new supplier to get this sorted (as well as third party called a data collector), there's a few opportunities for a delay. Regardless, the industry time-frame for this process is 6 weeks, so you certainly should have had a final bill by now.
Failing to get a final bill generated within the 6 week time frame means a Guaranteed Standards of Performance (GSOP) payment to the customer - a £30 payment automatically credited to your account for this failure to meet the deadline.
I'd recommend chasing this one again with us, but instead of emailing, you can get in touch with us much quicker on webchat, via the Help Centre, or send us a message to our Facebook or Twitter pages.
It'd be great to get an update here, so we can see how this one unfolds.
View original