why do ovo even though ive never missed a payment and im £110 in credit continue to threaten to raise my payment by £ 80 a month ,we are in the middle of a pandemic people are dying or losing there jobs and we get these threats to nearly double monthly payments based on ovo and there crystal ball and what you may or may not use energy wise over the next 6 months
Best answer by Transparent 22 November 2020, 15:06
Updated on 26/01/2021: The info in this update box was taken from this topic: 

 
How do you calculate my Direct Debit?
 
When you comes on supply with us, we'll use your annual usage figures to calculate how much your energy will cost over the year. Once we've got the annual amount, we'll divide this into 12 - this will give us the Direct Debit amount.

If you haven't got your annual usage figures, we'll use the national averages. You would then need to send us regular readings for at least 3 months, then we'll manually calculated the annual figure.
Changing my Direct Debit: How to video

 
Direct Debit FAQs:
See this topic for 7 of the most comm Direct Debit questions
Hi @enlighten me - And may I please do just that… enlighten you.
The following graphic shows a customer who started a Year's Contract on 13th January. Based on the information he fed in when obtaining the quotation, OVO's computer has estimated the annual spend for electricity and gas combined will be £1230. That is shown as the red horizontal line.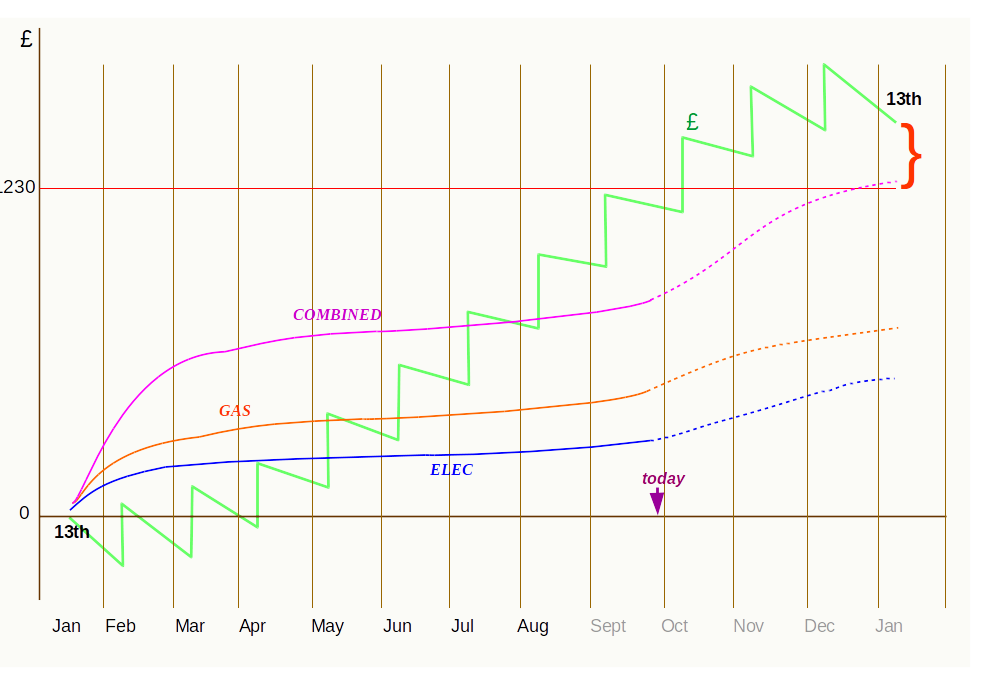 We are viewing the graph as if it is now the last week in September.
The green line shows the money in the customer's energy account. The vertical lines on 14th of each month are the Direct Debits. This amount decreases each month in line with the current usage.
The Ofgem regulations allow for Energy Suppliers to keep an account in credit to an amount at least equal to the estimated usage for the following month.
When the Contract starts, there is a complete month before any money is paid in. So the following 11 Direct Debits are calculated as greater than the actual monthly spend so that the account will be in credit by at least one-month's amount at the end of the Contract date. Hence the } at top right of the graph.
By the end of September it is clear that the customer is likely to have used more energy (particularly gas) by the Contract End Date.
The longer that he takes no action, the steeper will be the increase in the Direct Debit when the Energy Supplier eventually imposes it. This is most likely the situation in which you find yourself.
Note that a 12-month Contract actually consists of only eleven DD payments, not twelve. So the increase is always going to seem steeper than a customer expects by doing the basic maths.
View original