Updated on 23/02/2021: We've moved onto a new billing platform! This means we're no longer going to issue monthly statements. Instead we'll send you a monthly summary by email and communicate your usage and costs to you on a more regular basis. You can find a handy guide on how to navigate the new platform here.
If you would like to create a guide on billing using the new online account, please post it here!
Lumo is no longer available. For an OVO Energy quote, click 
here
.
When will I get a Statement and not a Summary?
Instead of receiving a regular monthly statement you will only receive statements:
At the end of a plan (if you're leaving us at this point it will be part of your final bill).
If you cancel your Direct Debit and we need to discuss payment options with you.
If you're on a two year plan we'll also send you a statement at the end of your first year.
Where's the best place on OVO Help for billing questions?
This is the page we've created to help customers understand their statements here.

Why would we estimate a reading when the customer has provided a reading for that month?

We will estimate a reading when one isn't provided the day before the summary date (assuming they don't have a working smart meter). This will be estimated from the last reading submitted, based on the average usage of the property.

How long does it take to send an opening summary?

It can take up to 6 weeks from the supply start date, to confirm the customer's opening meter reading from the third party that approves (validates) them for each supplier. Until then, we won't bill the customer and they won't have full access to an online account.
 
Why we might not send a summary straight away, following a smart meter being fitted?

It can also take up to 6 weeks from the meter fitting date, before will bill the customer. This is because we need to be sent all the new meter details through official channels.
 
Why does it say I could save money on my statement?

OfGem regulate this bit of the statements, and say we have to show this information in this way. If it proposes that you could be on a cheaper tariff, it'll be for the tariff prices for the day the statement was produced.

It's worth noting that leaving fees might be incurred, or the tariff might only be available to OVO's sister company Lumo Energy or Boost Power, so sometimes the cheapest tariff noted isn't actually available. We're working with Ofgem to make this feature more helpful to the customer.

The majority of the time the most cost-effective solution would be to remain on your current tariff and then renew once it ends.
How do I keep track of what I'm using?
You can view the monthly summary using your online account, as seen in the image below. You can find out how here.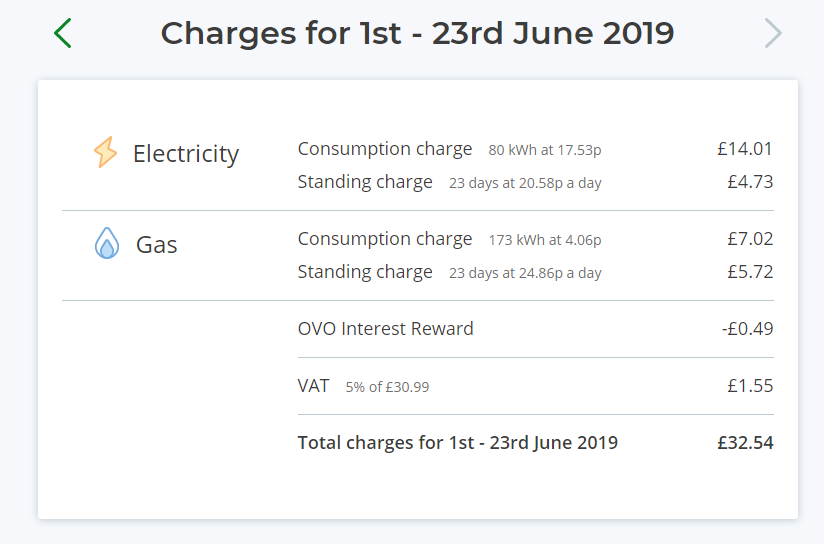 Then further below, you'll find a breakdown of your charges, like this-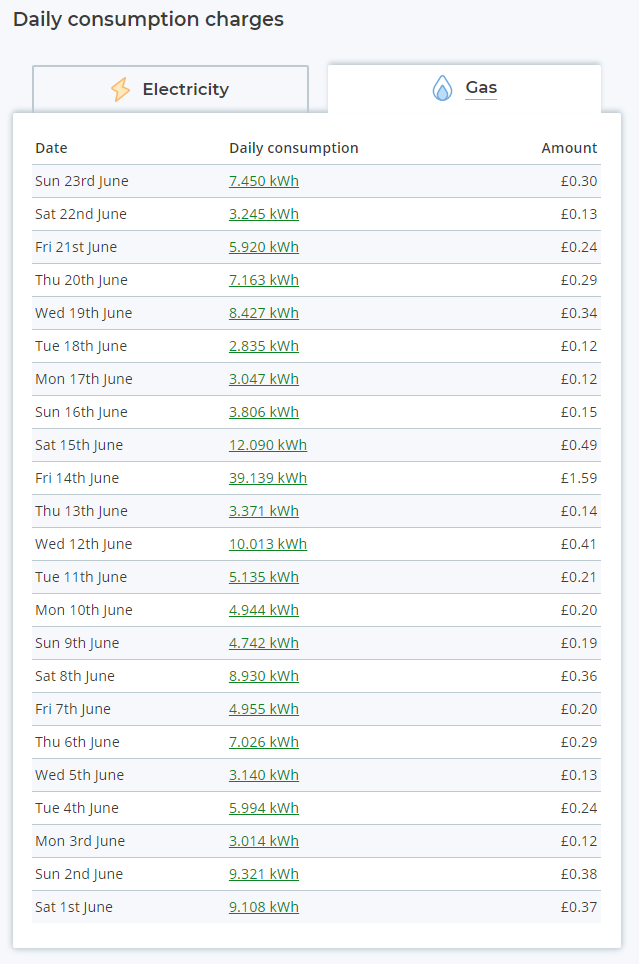 What happens if I'm on the old billing platform?
If you're still using the older platform, then there's no changes to the way you're billed for now. You'll still get a statement each month and be able to download a PDF copy on the online account.
You can find an example of how you can expect your statement to look here.